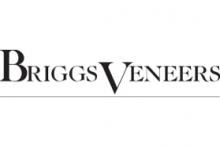 Briggs Veneers
Address
409 Victoria Street, WETHERILL PARK, NSW
Business Type
Manufacturer
Wholesale/Trade sales
Accreditation / Certification
Service Categories
Other
Timber building products
Briggs Veneers is Australia's largest supplier of sliced and rotary veneers, veneer layons, reconstituted veneers, dyed veneer, pre-finished veneers, fire-retardant MDF, glue thread and paper tape for veneers.
The Briggs Group launched into the timber industry in 1908. We now offer more than 200 real wood veneers from Australia and around the world, including: eco-cert PEFC/FSC certified veneers, Woodstock and Ecoligna Tabu dyed veneers, TrueGrain reconstituted veneers, paper-backed veneers, Oberflex, Shinnoki and Innato prefinished veneers, "Peel&Stick" veneer, veneer- and ABS-edging.
We also supply FLAMEBLOCK Fire Retardant MDF, veneer equipment, Kuper veneer machinery, glue thread and paper tape for veneers.
Veneer splicing and stitching, Paper backing of veneer
Other Species supplied by Briggs Veeners includes:
American Cherry
American Myrtle Burl
American Red Oak
American Walnut
American White Oak
Ash Burl
Birds-eye Maple
Blackbutt
Brush Box
Elm Burl
European Beech
European Birch
European Oak
Grey Ironbark
Hoop Pine
Japanese Sen
Jarrah
Jarrah Burl
Madronna Burl
Maple Burl
Marri
Masur Birch
Oak Burl
Oregon
Poplar Burl
Radiata Pine
Red Heart Gum
Rock Maple
Rose Acacia
Silver Wattle
Spotted Gum
Tasmanian Blackwood
Tasmanian Myrtle
Tasmanian Oak
Tasmanian Southern Blue Gum
Tasmanian Stringybark
Vavona Burl
Victorian Ash
Walnut Burl
Western Red Cedar
White Ash
White Sycamore