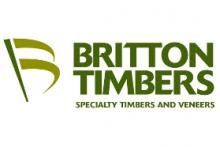 Britton Timbers comprises timber processing, manufacturing & distribution operations for export & domestic sales of quality Australian & imported timber products from its Tasmanian operations & national distribution centres in Melbourne, Sydney & Brisbane
Address
3 Brittons Road,
Smithton
TAS 7330
Business Type
Manufacturer
Retail
Wholesale/Trade sales
Service Categories
Engineered timber fabrication
Timber for Furniture, Flooring, Cabinets and Joinery

Britton Timbers has a national distribution history dating back over 100 years. Brittons Melbourne, Sydney and Brisbane have diversified to become one of the largest and foremost importers, wholesalers and distributors of the finest cabinet, furniture, joinery and flooring timbers throughout the whole of Australia.

Britton Timbers Melbourne, Sydney and Brisbane specialise in quality Tasmanian timbers and veneers (Blackwood, Myrtle and Tasmanian Oak). This is the continuation of a proud tradition, as many of the oldest and finest buildings in Victoria and around Australia are enhanced by the beauty of Tasmanian Blackwood.

Along with the Tasmanian species we supply of the complete range of Australian and imported species of speciality timber sourced from around the world, and a combined stockholding of more than 10,000m3, Britton Timbers is able to offer the widest range of colours and textures enabling architects, specifiers, joiners, cabinet makers and flooring specialists to create the desired look and feel required.

Brittons Mebourne, Sydney and Brisbane are the sole agents for Northland Forest Products Inc. U.S.A., Romea Legnami Spa Italy, and U.S.A. Woods International Inc. U.S.A. These worldwide resources are complimented with Brittons ability to stock secure volumes of Australian species including Victorian Ash, Jarrah and a comprehensive range of Asian/Pacific species.