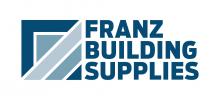 Franz Building Supplies
Quality Products. Honest, reliable service, delivery and advice.
We're a proudly WA owned, family business with an absolute determination to supply the products that help build high quality, sustainable and enjoyable places to live. Builders, tradies and home owners have trusted Franz Building Supplies for over 21 years to supply the right products and advice for their projects. Contact the team today to see why.
Shed C2 - 174 Barrington St Bibra Lake, WA 6163