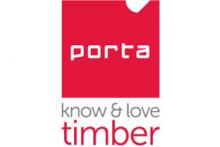 Leading supplier of timber mouldings, durable timber products and custom moulding services
Address
224-256 Heidelberg Rd Fairfield Vic 3078
Business Type
Manufacturer
Retail
Wholesale/Trade sales
Accreditation
Responsible wood
FSC
PEFC
Porta, an Australian company is widely regarded as Australasia's leading supplier of timber mouldings, durable timber products and custom moulding services to the home improvement, building, trade and commercial sectors.

Porta's product range covers a broad variety of profiles and timber products available in various local and imported softwood and hardwood timber species. These include: Tasmanian Oak, Radiata Pine (Clear Pine, Primed FJ Pine, Finger Jointed, H3 Treated, General Purpose Pine), Meranti, Karri, Cumaru and Fijian Mahogany.

Our range & services includes:
- Architrave & Skirting
- Decorative Wall Trim
- Window and Door profiles
- Dressed All Round
- Dowels
- Handrails
- General Purpose Mouldings
- Picture Framing
- Outdoor Mouldings
- Coloured MDF
- Decking, Beams & Posts
- Cladding and Lining Boards
- Sawn timber
- Furniture dowels
- Custom and contract moulding services
- Sanding services

Porta is committed to responsible and renewable operations by only sourcing timbers from certified resources. Porta is Chain of Custody certified under the Forest Stewardship Council (FSC®), Australian Forest Certification Scheme (AFCS) and the Programme for Endorsement of Forest Certification (PEFC™).