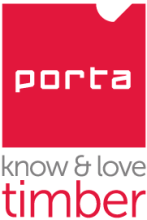 Leading supplier of timber lining boards, mouldings, timber products and custom moulding services.
Address
224 – 256 Heidelberg Road, Fairfield VIC 3078
Business Type
Manufacturer
Retail
Wholesale/Trade sales
Accreditation / Certification
FSC
PEFC
Responsible Wood
Service Categories
Architecture & design
Building construction
Carpentry
Interior design
Joinery & cabinet making
Landscape design
Other
Timber building products
Timber connections
Woodcraft
Porta, an Australian company is widely regarded as Australasia's leading supplier of timber linings, mouldings, durable timber products and custom moulding services to the residential, home improvement, building, trade and commercial sectors.
Porta's product range covers a broad variety of profiles and timber products available in various local and imported certified softwood and hardwood timber species. Including: Tasmanian Oak, Primed FJ Pine, Clear Pine, Cumaru, General Purpose Pine, H3 Treated Pine, Meranti, Meranti Veneer and Mixed Hardwood.
Inspired by the contours of the Australian landscape, Porta's timber lining boards are an on trend choice for any project. Porta Contours timber lining boards are available in a range of textured, biophilic designs to create a design feature in any space.
Porta's extensive range of products & services include:
Timber Lining Boards
Architraves & Skirting
Custom Mouldings
Decorative Wall Trim
Decorative Ceiling Trim
Window and Door profiles
Dressed All Round
Dowels
Handrails
General Purpose Mouldings
Picture Framing
Decking, Beams & Posts
Timber Cladding
Furniture dowels
Custom and contract moulding services
Porta is committed to responsible and renewable operations by only sourcing timbers from certified resources. Porta is Chain of Custody certified under the Forest Stewardship Council (FSC®), Australian Forest Certification Scheme (AFCS) and the Programme for Endorsement of Forest Certification (PEFC™).
Species Available:
Clear Pine
Cumaru
General Purpose Pine
H3 Treated Pine
Meranti
Meranti Veneer
Mixed Hardwood
Primed FJ Pine
Tasmanian Oak
Porta provides a multitude of timber products and services to a variety of sectors. 
Including CPD presentations are for architects, designers, landscape architects and those who work in landscape construction who love the feel, warmth, and aesthetics of using timber in their designs. 
Porta's in-house presentation expands knowledge and understanding of designing with timber, along with updates on the latest timber products and services.