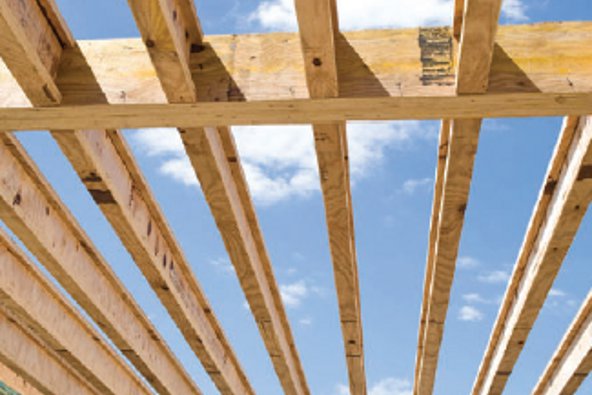 I-Beams
I-Beams offer a high-strength, long-span structural timber beam which can be used for residential and commercial building applications.
I-Beams are high-strength, long-span structural timber beams which are used for residential and commercial applications. They offer exceptional straightness, uniform depth and dimensional stability.
Economical to produce, the I-Beam is made from a combination of timber products. The top and bottom flanges - which make the distinct 'I' shape, - are made from material with a high tension strength such as LVL or even graded solid timber. The flanges are separated by a vertical web, usually manufactured from structural plywood or oriented strand board (OSB). The centre of the section serves to transmit shear stresses, so a material with good shear properties is required.
The web and flanges create a lightweight beam which is both strong and durable. The flanges resist bending, tension and compressive stresses, utilising LVL's enhanced strength and stiffness properties. The web serves to transmit the shear stresses, relying on plywood's panel shear capacity and dimensional stability.
I-Beams are generally not considered to be an appearance product due to the visibility of gluelines but can be finished accordingly for architectural and design applications.
Lightweight timber construction typically comprises framed and braced structures to which one or more types of cladding are applied. Framing configurations can range from the closely spaced light timbers commonly seen in stud frame construction to large, more widely spaced timbers. A timber framed building can be placed on a concrete slab or on posts/poles or bearers resting on piers/stumps supported on pad footings.
Used in houses or multi-residential dwellings, lightweight timber construction offers the flexibility of a wide range of cost effective design options.
When the timber comes from sustainable sources, this construction method can be environmentally advantageous as it combines timber's low embodied energy with its capacity to store carbon.