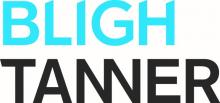 Bligh Tanner is a structural, civil, environmental and water engineering consultancy
Address
Level 9, 269 Wickham Street, Fortitude Valley, QLD, 4006
Accreditation / Certification
Service Categories
Advice & consultancy
Structural engineering
Bligh Tanner is a structural, civil, environmental and water engineering consultancy distinguished by its high level of expertise, personalised service and reputation for delivering innovation on all projects.
Over the past 25 years, we have been responsible for some of Queensland's most innovative and complex engineering projects, from multimillion dollar special structures, through to world-leading integrated water management systems.
A distinct advantage of our firm is our team of highly experienced and dedicated senior level staff including six Directors who play an active role in all projects to ensure clients receive the very best in personalised service and expertise.
We are known for our thorough and collaborative approach to all projects, ensuring high quality and high value outcomes for clients.
With a commitment to integrating contemporary design with the surrounding built and natural environments, Bligh Tanner has a strong focus on environmentally sustainable design that provides impetus to innovation on all projects.
CLT is a technology with a proven record in Europe, UK and USA, and is being used by builders in Australia and New Zealand. XLam, a manufacturer of CLT with a new factory on the VIC/NSW border, have delivered over 500 projects since starting manufacture in 2012.Emerging technologies can represent both commercial opportunities and risks. There are considerations for design professionals, main contractors, trade contractors and clients, we believe that forming collaborative relationships can best identify, navigate and mitigate technical issues and the potential risks involved. Bligh Tanner offers specialist technical expertise and is well connected to a network of industry professionals, researchers and experts to support us in delivering engineered timber projects.