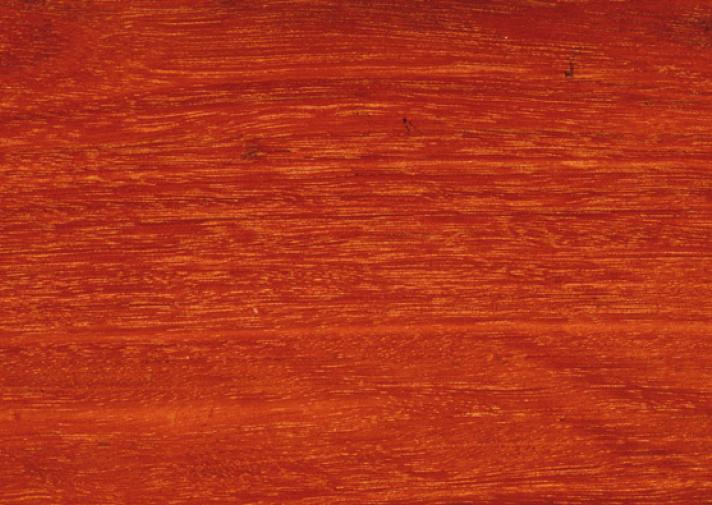 Gum, Forest Red
Blue Gum (Qld), Red Irongum (Qld), Red Gum, Blakely's Red Gum, Eucalyptus umbellata, Eucalyptus vlakelyi, Eucalyptus blakelyi
Forest red gum is a versatile, dense and durable hardwood, with a light to dark red heartwood perfect for flooring, decking, construction and furniture making.
Forest red gum produces a reliable timber suited to a wide range of uses. The timber is highly durable with an extremely high density. It displays a tight interlocking grain alongside its lush red colour, making it excellent for applications where appearance and durability are important.
As the name suggests, forest red gum is a medium to tall forest tree. Trees of this species grow to a height of 20 to 50 metres, with a girth of up to two metres. The trunk is straight and is usually unbranched for more than half the total height of the tree, with limbs that are more steeply inclined than other eucalypt species. The bark is shed in irregular sheets, resulting in a smooth trunk surface, coloured in patches of white, grey and blue. Rough dark grey to black dead bark is retained at the base of the stem.
A versatile timber, forest red gum can be used in wharf and bridge construction, railway sleepers, cross-arms and mining timbers. It is suitable for all building members including posts and poles, framing, flooring, lining, decking and cladding. It is suitable for both indoor and outdoor furniture. As well as sawn and round applications, forest red gum is suitable for the manufacture of structural plywood.
Eucalyptus tereticornis, the most commercially important of the two sub-species, spreads from coastal south-eastern Victoria to southern Papua New Guinea. E. blakelyi subsp. blakelyi is found from northern Victoria through New South Wales and into southern Queensland. Timber appearance and properties are identical for both species. E. tereticornis sapwood is not susceptible to lyctid borer attack, unlike E. blakelyi. This species is not susceptible to termites.
Appearance
The timber from forest red gum, as its common name indicates, is predominantly red. Heartwood ranges in colour from light to dark red. The sapwood is distinctly paler in colour, a grey or cream-red that is distinguishable from the heartwood. A moderately coarse grain that is uniform in texture complements these rich colours. Forest red gum is a timber that reliably displays interlocked grain.
Common Applications
Timbers of this species have a range of applications. As sawn and round timber, forest red gum is used in wharf and bridge construction, railway sleepers, cross arms, poles, piles (including wharf piles) and in mining timbers.
For general construction purposes, sawn timber can be used in general house framing, cladding, fascia and barge boards. It is ideal for internal and external flooring, linings and joinery due to attractive colour and reliably interlocked grain. Its durability and strength make it excellent for fencing, landscaping, retaining walls. Decorative applications include use in outdoor furniture, turnery, joinery and structural plywood.
Forest red gum is also suitable for some boatbuilding applications, including keels, framing and planking. The timber's hardwearing characteristics make it useful for machinery bearings and underwater bearing applications of low stress. 
Common Form
Sawn
Workability
Forest red gum has class 1 durability for above and in-ground ­— the highest rating possible. Expect to have 25 years of service from forest red gum timber in-ground.
The sapwood readily accepts preservative impregnation but penetration of heartwood is negligible using currently available commercial processes.Forest red gum does not require fire retardant treatment for use in construction in bush-fire prone areas.
Timber of this species can be satisfactorily dried using conventional air and kiln seasoning methods, and is very hard. The interlocked grain often makes it difficult to dress cleanly on the radial surface.
In spite of this hardness, no difficulty has been experienced with the use of standard fittings and fastenings. As with most high-density species, machining and surface preparation should be done immediately before gluing. However, this timber will readily accept paint, stain and polish. 
Origin of Timber
Readily Available
Availability - Further Information
The Forest Red Gum grows naturally over a very broad range of latitudes and is unique among Eucalypts for this reason. The timber is therefore widely available.
Shrinkage
| | | | | | |
| --- | --- | --- | --- | --- | --- |
| | Very Low | Low | Medium | High | Very High |
| | | | | | |
| Tangential : | | | | | |
| Radial: | | | | | |
| Unit Movement Tangential: | | | | | |
| Unit Movement Radial: | | | | | |
Strength Group
Very High

High

Reasonably High

Medium High

Medium

Reasonably Low

Low

Very Low

Unseasoned:

S1

S2

S3

S4

S5

S6

S7

Seasoned:

SD1

SD2

SD3

SD4

SD5

SD6

SD7

SD8
Stress Grade
Structural
No. 1
Structural
No. 2
Structural
No. 3
Structural
No. 4
Structural
No. 5

Unseasoned:

F17

F14

F11

F8

F7

Seasoned:

F22

F17

F14

F11

F8
Density per Standard
Seasoned:

Unseasoned:
Joint Group
Very High

High

Reasonably High

Medium

Low

Very Low

Unseasoned:

J1

J2

J3

J4

J5

J6

Seasoned:

JD1

JD2

JD3

JD4

JD5

JD6
Colour
White, yellow, pale straw to light brown
Pink to pink brown
Light to dark red
Brown, chocolate, mottled or streaky
Mechanical Properties
| | |
| --- | --- |
| Modulus of Rupture - Unseasoned: | |
| Modulus of Rupture - Seasoned: | |
| Modulus of Elasticity - Unseasoned: | |
| Modulus of Elasticity - Seasoned: | |
| Maximum Crushing Strength - Unseasoned: | |
| Maximum Crushing Strength - Seasoned: | |
| Impact - Unseasoned: | |
| Impact - Seasoned: | |
| Toughness - Unseasoned: | |
| Toughness - Seasoned: | |
| Hardness - Unseasoned: | |
| Hardness - Seasoned: | |
Durability
| | | | | |
| --- | --- | --- | --- | --- |
| | Low | Moderate | Reasonably High | High |
| | (0 - 5 yrs) | (5 - 15 yrs) | (15 - 25 yrs) | (more than 25 yrs) |
| In-Ground: | | | | |
| | (0 - 7 yrs) | (7 - 15 yrs) | (15 - 40 yrs) | (More than 40 yrs) |
| Above ground: | | | | |
| | (0 - 20 yrs, usually < 5) | (21 - 40 yrs) | (41 - 64 yrs) | (More than 60 yrs) |
| Marine Borer Resistance: | | | | |
| | |
| --- | --- |
| Lyctid Borer Susceptibility: | Not Susceptible |
| Lyctid Borer Susceptibility - Other: | |
| Termite Resistance: | Resistant |
Fire Properties
1 - non-combustible
2 - reasonably non-combustible
3 - slightly combustible
4 - combustible

Fire Properties Group
Number:
| | |
| --- | --- |
| Group Number - Other: | 3 if used on MDF or particleboard ≥12mm; veneer thickness 0.6-0.85mm |
| Average Specific Extinction Area: | |
| Bushfire Resistance: | BAL 12.5 and 19 – All AS3959 required applications |