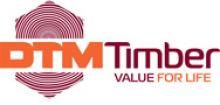 DTM Timber produces and distributes a wide range of hard woods for the Australian Market. New dwellings-renovations-landscape gardening-electricity infrastructure-logistics-forest management and supply.
Address
151-153 Kent Street
Maryborough
QLD 4650
Business Type
Manufacturer
Wholesale/Trade sales
Accreditation / Certification
DTM Timber has been in operation since 1988. From humble beginnings we have expanded rapidly to the large logging, sawmilling, timber treatment and structural quality timber distribution and sales business that exists today.
Over the past few years the Directors have overseen the integration and rationalisation of the Company's' diverse product range. The business has managed to consolidate through the Global Financial Crisis and is now in a position to move forward stronger than ever. In January 2012 the business decided on a name change from Dale and Meyers Operations to DTM Timber.
Our primary focus is on the hardwood structural grade market, and we have successfully established a wholesale customer base throughout Queensland, which now includes all the major hardware chains, timber outlets and landscape yards. As the need to more fully utilise resources grew, we established our paling mill, commissioned a modern CCA treatment plant and entered the power pole and round building pole markets.
As our horizons have broadened, we have optimised global opportunities and now enjoy strong export relationships with New Zealand, Fiji, New Guinea and other pacific In 2012 a strategic decision was made to sell off the tradestores and focus on the core business of cutting structural timber and producing power poles and Cross Arms for the energy market. At this time Dale and Meyers Operations was rebranded as DTM Timber.
DTM Timber conducts its logging operations in accordance with strict Forestry guidelines having consideration for resource sustainability. Hardwood forests in Australia have the unique characteristic of regeneration without replanting. Waste generated during the sawing process is sold in the form of sawdust, and other landscaping material.
Harvesting Practices
Strict Government guidelines apply to timber harvesting on both crown land and private property.
The vast majority of our resource supply comes from private property and managed state forests in South East Queensland.
We are committed to working with the State Forest Agencies, Forest Owners, Regulators, Policy-Makers and other Key Stakeholders to achieve a sustainably managed resource base.
Our Dry Mill manufactures quality Hardwood decking and flooring for both residential and commercial projects.
Our green mill produces power poles, piles, building timbers, cross arms, and a range of land scape products.
The frame and truss plants service builders throughout Queensland and north of Brisbane.