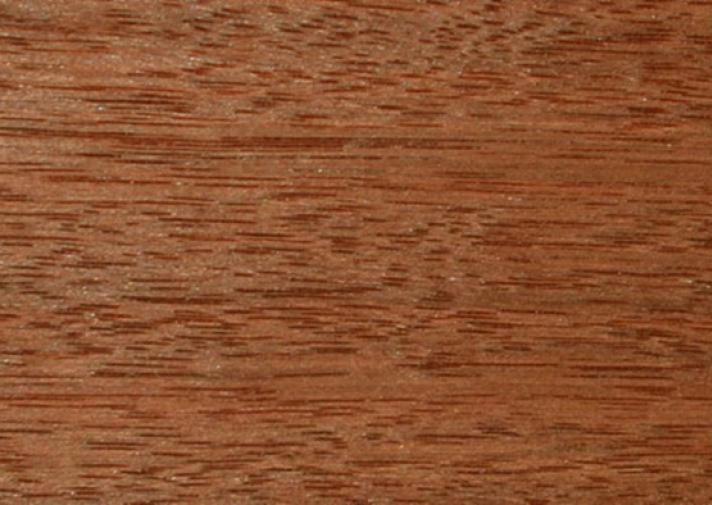 Mahogany, Red
Red Stringybark, Daintree Stringybark (Qld), Red Messmate (Qld), Eucalyptus resinifera
Red mahogany is an Australian hardwood with a fine grain and stunning red colouring used for engineering applications, construction, furniture and turnery.
Red mahogany is a hardwood with a fine grain and attractive red colouring. It is a versatile wood suitable for engineering applications and for use in construction. Due to its figuring, it is prized for furniture and turning. Red mahogany has become a prestigious timber owing to its durability, termite resistance and distinctive colouring.
Different species of red mahogany grow in different regions of Queensland, New Guinea and Irian Jaya. E. resinifera occurs from Jervis Bay in New South Wales to Coen in Queensland. E. pellita occurs from north of Townsville to Iron Range on Cape York Peninsula and through areas from Gladstone in Queensland to southern coastal New South Wales.
Trees of this species reach a height of 40-45m with 1-1.5m trunk diameter. The bark is fibrous, shallow to coarsely fissured, and persists on even the small branches. Different species have differently coloured bark; E. resinifera beinggreyish to reddish-brown and E. pellita being reddish-brown to brown.
Red mahogany is a dense, durable timber. The heartwood ranges from red to dark red, but sapwood is distinctively paler. The even grain is generally moderatley textured, displaying the occasional gum vein, and at times the grain is interlocked producing an attractive figure.
The density of the timber varies depending on its source; plantation grown 8.5 year-old timber has 70% of the density of natural grown timber, creating some variance in hardness.
Uses of red mahogany have included wharf and bridge construction, railway sleepers and in mining timbers. It is used for a wide range of interior and exterior purposes in general construction and can be made into indoor and outdoor furniture. Other uses include boat building, coach, vehicle and carriage building and structural plywood.
Appearance
Red mahogany is a beautiful timber, displaying a range of deep red and pale pink hues. The grain is uniform and somewhat course and can be interlocked, producing a stunning figure.Generally the heartwood is a deep, rich red in colour but it may be lighter in younger material. The timber's sapwood is paler and clearly distinct from the heartwood. Tight gum veins, gum deposits and pinhole borer discolouration occasionally augment the appearance of the timber and pencil streak is common.
Common Applications
Red mahogany's durability, hardness and distinctive colouring make it one of the most versatile of timbers. The engineering applications of red mahogany as a sawn and round timber can be seen in wharf and bridge construction, railway sleepers, cross arms, poles, piles, mining timbers. As sawn timber for construction purposes it is used in general house framing, cladding, internal and external flooring, linings, joinery, fencing, landscaping, including use in retaining walls, although it is less ideal for use in contact with the ground.
One of its finest uses is for decorative purposes, in the manufacture of quality indoor and outdoor furniture. It is also prized for turning. Red mahogany's versatility can be seen further in its use in boat building (keel and framing components, planking), coach, vehicle and carriage building, agricultural machinery and in structural plywood.
Common Form
Sawn
Workability
For a dense timber that is very hard, red mahogany is relatively easy to work and machine with both hand and power tools. It can be satisfactorily dried using conventional air and kiln seasoning.
The heartwood is highly resistant to termites and the softwood susceptible to lyctid borer. The sapwood readily accepts preservative impregnation but penetration of heartwood is negligible using currently available commercial processes.
No difficulty has been experienced when using standard fittings and fastenings. As with most highly dense species, machining and surface preparation should be done immediately before gluing. The species holds both nails and staples well.
Finishing the timbers is possible through a range of methods. The timber accepts paint and stain and is one of the best eucalypts for painting since the wood has good resistance to surface checking. It develops a lovely finish when polished.
Origin of Timber
Readily Available
Availability - Further Information
Red mahogany is available only in limited quantities, due to heavy logging in the past. Early research trials suggest that future supplies of plantation-grown E. pellita will be available from northern Queensland on suitable soils and where the mean annual rainfall exceeds 900 mm.
Shrinkage
| | | | | | |
| --- | --- | --- | --- | --- | --- |
| | Very Low | Low | Medium | High | Very High |
| | | | | | |
| Tangential : | | | | | |
| Radial: | | | | | |
| Unit Movement Tangential: | | | | | |
| Unit Movement Radial: | | | | | |
Strength Group
Very High

High

Reasonably High

Medium High

Medium

Reasonably Low

Low

Very Low

Unseasoned:

S1

S2

S3

S4

S5

S6

S7

Seasoned:

SD1

SD2

SD3

SD4

SD5

SD6

SD7

SD8
Stress Grade
Structural
No. 1
Structural
No. 2
Structural
No. 3
Structural
No. 4
Structural
No. 5

Unseasoned:

F27

F17

F14

F11

F8

Seasoned:

F27

F22

F17

F14

F11
Density per Standard
Seasoned:

Unseasoned:
Joint Group
Very High

High

Reasonably High

Medium

Low

Very Low

Unseasoned:

J1

J2

J3

J4

J5

J6

Seasoned:

JD1

JD2

JD3

JD4

JD5

JD6
Colour
White, yellow, pale straw to light brown
Pink to pink brown
Light to dark red
Brown, chocolate, mottled or streaky
Mechanical Properties
| | |
| --- | --- |
| Modulus of Rupture - Unseasoned: | |
| Modulus of Rupture - Seasoned: | |
| Modulus of Elasticity - Unseasoned: | |
| Modulus of Elasticity - Seasoned: | |
| Maximum Crushing Strength - Unseasoned: | |
| Maximum Crushing Strength - Seasoned: | |
| Impact - Unseasoned: | |
| Impact - Seasoned: | |
| Toughness - Unseasoned: | |
| Toughness - Seasoned: | |
| Hardness - Unseasoned: | |
| Hardness - Seasoned: | |
Durability
| | | | | |
| --- | --- | --- | --- | --- |
| | Low | Moderate | Reasonably High | High |
| | (0 - 5 yrs) | (5 - 15 yrs) | (15 - 25 yrs) | (more than 25 yrs) |
| In-Ground: | | | | |
| | (0 - 7 yrs) | (7 - 15 yrs) | (15 - 40 yrs) | (More than 40 yrs) |
| Above ground: | | | | |
| | (0 - 20 yrs, usually < 5) | (21 - 40 yrs) | (41 - 64 yrs) | (More than 60 yrs) |
| Marine Borer Resistance: | | | | |
| | |
| --- | --- |
| Lyctid Borer Susceptibility: | Susceptible |
| Lyctid Borer Susceptibility - Other: | |
| Termite Resistance: | Resistant |
Fire Properties
| | | | | | | | | | | | |
| --- | --- | --- | --- | --- | --- | --- | --- | --- | --- | --- | --- |
| | 0 | 1 | 2 | 3 | 4 | 5 | 6 | 7 | 8 | 9 | 10 |
| EFH Spread-of-Flame Index: | | | | | | | | | | | |
| EFH Smoke-Developed Index: | | | | | | | | | | | |
| | |
| --- | --- |
| Critical Radiance Flux - Lower: | |
| Critical Radiance Flux - Higher: | |
| Smoke Development Rate: | |
1 - non-combustible
2 - reasonably non-combustible
3 - slightly combustible
4 - combustible

Fire Properties Group
Number:
| | |
| --- | --- |
| Average Specific Extinction Area: | |
| Bushfire Resistance: | BAL 12.5 and 19 – All AS3959 required applications |