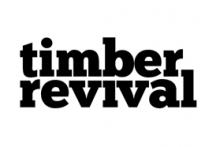 Timber Revival is a specialist supplier of recycled and reclaimed Australian hardwoods. We produce and supply high quality timber products Australia wide and also offer new sustainably managed timbers that are FSC Certified.
Address
1/9 Lacy Street
Braybrook
VIC 3019
Business Type
Manufacturer
Retail
Services
Wholesale/Trade sales
Accreditation / Certification
Timber for Flooring, Decking, Cladding, Posts & Beams and Furniture

Timber Revival is a specialist of reclaimed Australian hardwoods, sourcing local timbers with great stories. We offer a range of timber design solutions for commercial and domestic projects and also provide FSC certified alternatives.

Our product range includes:

* Flooring - we stock overlay, strip and wide board flooring and also carry reclaimed Baltic Pine & Tasmanian Oak boards

* Cladding - we stock various sizes and a range of profile options, including concealed fixing shiplap

* Posts & Beams - specialising in large stock, we source various lengths and species suitable for various applications.

* Decking - we stock suitable durable hardwoods specifically rated for external applications

* Stair treads - laminating on-site, we produce treads for internal and external applications.

* Bench tops - we supply made-to-measure bench tops for all commercial and domestic settings. Produced in-house, our bench tops feature in a number of high profile homes, bars and retail spaces throughout Victoria.

At Timber Revival, we pride ourselves on doing more than just supplying timber. We work with our clients to realise their projects, from large scale commercial developments through to DIY renovations. Our staff are knowledgeable, with practical experience in carpentry and furniture design. They can assist with all technical aspects of your project.
We offer flooring supply and installation with 3 year warranty; complete shopfitting solutions and discounts; and timber processing, machining and laminating.