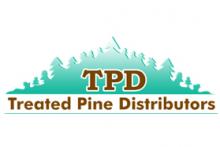 Treated Pine Distributors
Address
8 Accolade Avenue,
Morisset, NSW,
2264,
Business Type
Services
Wholesale/Trade sales
TPD is a wholesale timber distributor focused on delivering higher quality softwood, hardwood and composite timbers to independent stores in metro & regional NSW, QLD, ACT & VIC.

Treated Pine Distributors offers a wide range of structural, dressed and landscaping products including H2 Framing, Southern Select H3 Premium Outdoor Treated Pine, H3/H4 GLULAM Engineered Beams & Posts, GL18 TRULAM Merbau Beams, Solid-Face Merbau Posts, Fencing, Sleepers, Logs, Premium Grade Treated Pine Decking & Screening, Single Joint 5.4 / 5.7m Set-Length Merbau Decking & much more.

We pride ourselves on providing the best service in the industry with Just-In-Time delivery within 24h to 48h hours. There are no minimum orders with both packs and pieces available.

TPD is also the official Australian east coast distributor for Millboard - the world's most advanced composite decking. Contact us for strictly wholesale enquiries in NSW, QLD, VIC, SA, ACT & TAS. (See www.millboarddeck.com.au)
TPD also offers the following services: Custom made Exterior Stair Kits in Treated Pine / Merbau, Pre-Oiling / Pre-Coating timber (See www.precoat.com.au).