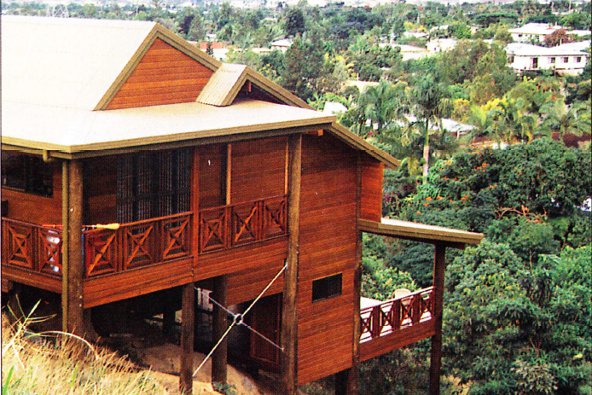 Roundwood
Roundwood is any timber product supplied in log form, which is usually used for structural applications.
Roundwood is any timber product supplied in log form; more commonly known as poles, piles, girders and posts. Roundwood is mainly used for structural applications and its main benefit is that it requires very little processing and that it also retains its density and strength, unlike sawn timber.
Common applications for roundwood include bridge girders, utility service poles, building poles and retaining walls.
Roundwood is both practical and simple to use, and apart from the removal of limbs, the only processing is likely to be preservative treatment and possibly the removal of sapwood.
Lightweight timber construction typically comprises framed and braced structures to which one or more types of cladding are applied. Framing configurations can range from the closely spaced light timbers commonly seen in stud frame construction to large, more widely spaced timbers. A timber framed building can be placed on a concrete slab or on posts/poles or bearers resting on piers/stumps supported on pad footings.
Used in houses or multi-residential dwellings, lightweight timber construction offers the flexibility of a wide range of cost effective design options.
When the timber comes from sustainable sources, this construction method can be environmentally advantageous as it combines timber's low embodied energy with its capacity to store carbon.
The natural appeal, strength and versatility of timber makes it an ideal choice for retaining wall landscaping applications.
Retaining wall systems include cantilevered round or sawn timber, mass wall and crib wall construction. Walls up to one metre in height follow a basic design and can usually be constructed using standard proprietary wall systems. An engineer will be required to plan and design walls greater than one metre, including the footings and drainage.
Drainage of retaining walls is a critical factor in influencing the long term stability of the wall and should thus form a significant part of the design and planning process.
Regular care and maintenance of retaining walls is essential in ensuring the long-term stability and safety of the structure.
Timber pole construction is typically utilised to provide support for gravity loads and resistance against lateral forces. The natural appeal of timber ensures that its role is not purely structural however, with timber poles complimenting architectural designs aimed at harmonisation with the natural environment. The small number of footings required in pole frame construction also ensures minimal disturbances to the site.
With a double bearer system, poles can be spaced further apart than is usual, creating a more spacious building interior, that allows greater interior design flexibility. While poles are usually placed in a grid like system this is not compulsory and the flexibility of the application means the system can cope with a wide variety of designs, enabling designers to take full advantage of beautiful outlooks.
This article provides a comprehensive overview of the process involved in specifying, designing and constructing a solid timber pole construction.