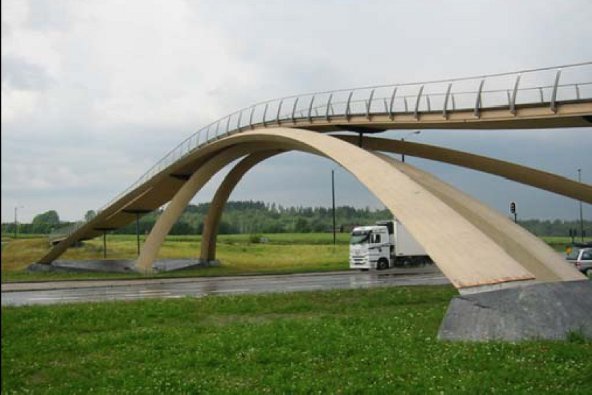 Glulam
| | |
| --- | --- |
| Other Names | Glued laminated timber, glue laminated timber. |
Glulam, short for glued laminated timber, is an engineered wood product manufactured by gluing together pieces of timber, known as laminates. This process produces larger size and longer length members, which can be curved or straight.
Glulam, short for glued laminated timber, is an engineered wood product. Large glulam members are produced from smaller pieces of stress graded and seasoned timber, known as laminates.
Glulam originated in Germany around 1900 but didn't make its way to Australia until the 1950s. It is now used for both structural and decorative applications.

Manufacturing
The manufacturing process produces large and long length glulam members, which also results in increased strength when compared to that of the individual member. This also means that much larger pieces of timber can be produced than would otherwise be possible with traditional solid sawn timber. Glulam is consistently stronger than solid timber, in part due to the reduction in size and occurrence of natural defects.
Timber laminates used in the production of glulam are typically finger-jointed into continuous lengths and available in a range of both softwood and hardwood species. The thickness of the laminates will depend on the application and species used. Prior to gluing, the laminations are accurately dressed to exact and uniform thickness. The laminates will also be clamped together under constant pressure until the glue has cured. Once glued, members are planed, cut to exact size and may be coated with a water repellent sealant.
Many manufacturers are able to produce a variety of shapes and sizes at the designer's request. The length and shape of glulam sections is limited only by manufacturing, transport and handling capabilities.
Australian manufacturers generally produce deep sections with the laminates horizontal. In Europe, glulam has been used with face and edge lamination to produce deep sections with vertical laminations; this technique may also be used by some Australian producers.
It is possible to manufacture a glulam beam with higher strength laminates in areas of high stress - such as in the top or bottom laminates of beams - and lower strength laminates in the areas of low stress. Steel and fibre reinforcement can also be incorporated in areas of high tensile stress and may be positioned either parallel or perpendicular to the laminate direction.
Suitability for structural applications 
Glulam offers many benefits when it comes to structural applications:
Large section sizes and long lengths - glulam can be manufactured curved or straight and is often used as structural beams. Finger jointing allows for long lengths.
Increased strength due to the laminating process - glulam is stronger than solid timber as it has fewer natural defects and a wider distribution. It is also comparable to steel in strength but is much lighter.
A high degree of dimensional stability - glulam is manufactured from seasoned timber and is therefore less prone to movement caused by changes in moisture content. However, care needs to be taken if they are used externally or in an environment with rapidly changing humidity (such as an indoor swimming pool). Swelling and shrinkage may lead to splitting or , in an extreme event, delamination of the beam.
Reliability - glulam is manufactured to strict quality requirements from stress- graded timber of known structural capacity. There are glulam quality assurance programs operating in Australia, but not all manufacturers may belong to them.
Chemical resistance - glulam is resistant to most acids, rust and other corrosive agents. Typical uses in corrosive situations include animal hide curing complexes, fellmongerys, fertiliser storage and swimming pools.