Changes to the NCC in 2019 to create new timber opportunities for mid-rise designers, developers and builders
Changes to the 2019 National Construction Code Volume One (NCC) increase the range of buildings, up to an effective height of 25m, in which fire-protected timber construction systems can be used. The new Classes add schools, retail premises, hospitals and aged care facilities to the previously approved multi-residential, hospitality accommodation and office buildings.
In 2016, following extensive work and a successful submission by Forest and Wood Products Australia (FWPA), the company behind the WoodSolutions Program, a Deemed-to-Satisfy solution was introduced to the NCC permitting, for the first time, construction in fire-protected timber building systems to an effective height of 25 metres (typically 8 storeys) for Class 2, 3 and 5 buildings.
In the 2019 edition, these concessions will be extended to include all classes of building, enabling the use of timber building systems in aged accommodation, schools, retail and hospitals
Timber building systems include traditional lightweight timber framing and the newer mass timber options, including cross laminated timber (CLT), laminated veneer lumber (LVL) and glue laminated timber (glulam).
FWPA National Codes & Standards Manager, Boris Iskra, who lead the submission process for the 2016 and  the current 2019 NCC changes, said that due to the new provisions, builders and developers wanting to use timber will no longer have to undertake time-consuming and expensive 'performance solutions' to gain building approval, as long as their designs meet the Deemed-to-Satisfy requirements. 
In effect, it opens the door to a wide range of options and combinations, for example, designers can now create mixed use mid-rise timber buildings, with residential upper levels and lower levels used for office space or retail.
Another change to the Code will require all Class 2 and 3 buildings four stories or above in height, to be sprinkler protected.
According to fire engineer, Paul England, Managing Director of EFT Consulting, sprinkler systems will substantially enhance fire safety and the cost of putting sprinklers in will be significantly offset by greater flexibility provided by new concessions for sprinkler protected Class 2 and 3 buildings. These new concessions include some reductions in fire resistance levels and extended travel distances which will translate to potentially improving lettable space within buildings. Paul provided the example of a building that will now require one fire stairway, whereas it previously might have required two. He pointed out that there are also modifications to hydrant protection that may also deliver cost savings, further offsetting the additional cost of sprinkler protection.
If you have a mid-rise project in the pipeline, there's never been a better time to consider timber and there's an expert resource to help you explore the most suitable options and realise the many benefits they can deliver.
The WoodSolutions Mid-rise Advisory Team pilot program has representation in Melbourne and Brisbane, providing free consultancy services. More information about the team and on designing and building with timber systems, is available at WoodSolutions.com.au
Image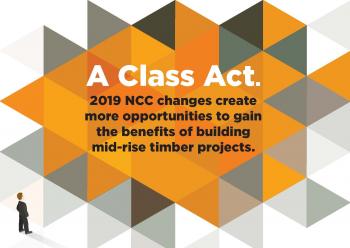 Image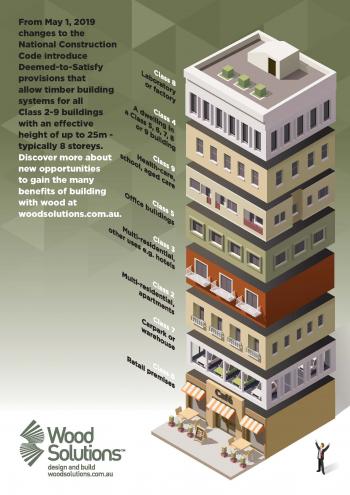 Image