The Tale Of Yet Another Tall One
Actually, it's not ten but eleven tall timber buildings. 
Built for the avant-garde social housing group of St. Dié-des-Vosges, France, known to systematically up the challenge with each new project, this last one is a pure wood construction, 8 storeys high and highly energy efficient, using straw-bale insulation and heat recovery from air, waste water and elevator machinery all to PassiveHouse standard in order to keep heating costs down to the equivalent of $1 Australian per habitable square meter per annum in a region where winters are cold.
Image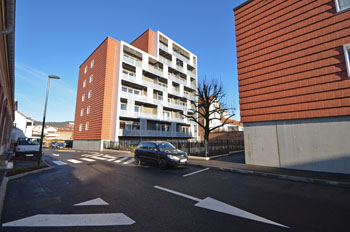 images © ASP architecture & Sertelet
The block benefits from a favourable exposure to the south and is composed of the 8-storey building with 19 flats at the back and the second 3-storey building in front, with 7 flats.
A residential to high sound proofing requirements, the main building is composed of 3 separate vertical CLT shafts into which the CLT floors have been set on Glulam "tables", a measure designed to guarantee high degree acoustic insulation, improved still by Getzner Sylodyn pads at all structural joints, even in the vertical assembly of the floor-high CLT façade-panels of the shafts. A 10 cm concrete flooring on each CLT floor completes the sound reduction system.
Image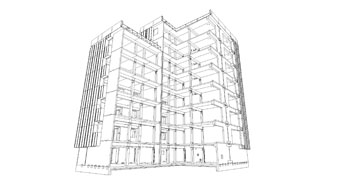 images © ASP architecture & Sertelet
Built in the moderate seismic risk zone Vosges in Eastern France, the block is to resist even major seismic events : the CLT shafts are individually strapped down to the reinforced concrete base by Halfen Detan tension rods.
In order to prevent uncontrolled humidity transfer, the straw bales are boxed in, a task farmed out to a packaging crate industrial who could guarantee the same manufacturing precision as the timber construction. The straw crates come five bales high and one bale wide to fit the prefab grid of the structure.
Image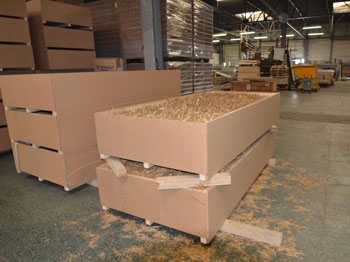 images © ASP architecture & Sertelet
Image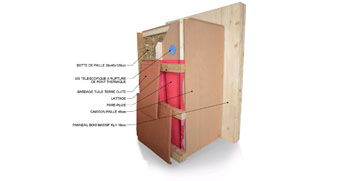 images © ASP architecture & Sertelet
The descriptors in the diagram above, from top to bottom :
- 5 straw bales, each 38 x 48 x 120 cm
- telescopic screw with thermal interruption
- battens
- weather-sheeting
- straw bale-crate
- CLT
Onsite assembly of the airtight and insulated structure could thus be finished in just four winter weeks by local carpenters, a family outfit of ten who planned prefab and assembly together with the structural engineers so that structure and straw-boxes could be assembled in a floor by floor sequence.
Image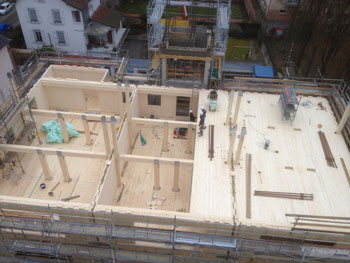 images © ASP architecture & Sertelet
Image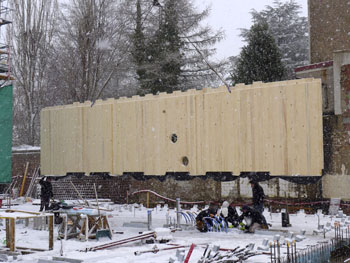 images © ASP architecture & Sertelet
The façades are clad in terra cotta tiles (70 %) and wooden shingles (30 %). 
The contracting owner takes unusual initiatives to develop local/regional networks of know how for his building programs, but the wood itself does not, so far, originate in France. A contradiction in itself, since France is a major wood producer, but hardly yet for usage in its own building market *) : the Glulam is made from German wood, the CLT travels some 800 km from central Austria. 
However, at the time of construction of this project, two French outfits were setting their own CLT productions up. It is highly probable that future buildings of this size will benefit from an offer of French timber building products. 
Two major office developments in Paris and its northern outskirts are currently being planned to be built with timber, the first offering 17.000, the second 30.000 square meters of space in 7-storey hybrid wood/concrete construction. An eleven-storey timber tower is now being planned in Strasbourg, another fourteen-storey tower is being discussed for a new development just outside the city of Paris.
NOTE: France is now looking into legal possibilities of favouring wood in construction, not only to check the $8 billion Australian wood related trade deficit and boost the wood industry, but also to make sure that the increasing shortages of sand and aggregate shall not restrain the national building sector. 
Owner (contracting) : Le Toit Vosgien - St. Dié-des-Vosges, France
Architects : ASP architecture - St. Dié-des-Vosges, France
Structural Engineering : Ingénierie Bois - Bischheim, France
Energy-design, ecological building techniques : Terranergie - Saulcy-sur Meurthe, France
Timber Construction : Yves Sertelet - Provenchères-sur-Fave, France
Case Studies
Image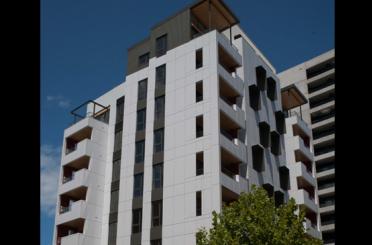 Forte Living
Forte Living is a 10 storey apartment building made from cross laminated timber (CLT), an innovative new timber construction material.
Wood products
Image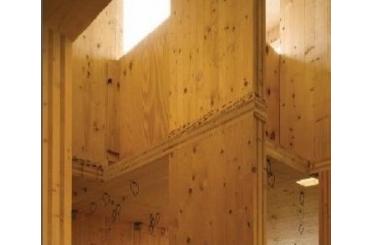 Cross Laminated Timber (CLT)
Cross Laminated Timber (CLT) is an engineered wood product, similar in construction to an extremely large plywood, used for pre-fabricated structural applications.
Image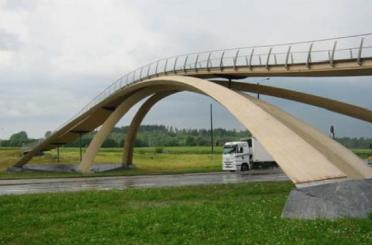 Glulam
Glulam, short for glued laminated timber, is an engineered wood product manufactured by gluing together pieces of timber, known as laminates. This process produces larger size and longer length members, which can be curved or straight.