A NATURAL RESPONSE
How biophilic design is changing the built environment
In this WoodSolutions exclusive, Italian architect and interior designer Enrico Cleva talks to Tony Neilson about wood in the world of biophilic design and WELL buildings.
Human association with nature and natural things appears to be assuming greater meaning and importance as our world becomes more tumultuous and violent.
That is particularly true in the urban environment, according to Milan-based architect and biophilic design proponent, Enrico Cleva.
"Since today's 'natural habitat' is largely the built environment, where we now spend 90 per cent of our time, biophilic design seeks to satisfy our innate need to affiliate with nature in modern buildings and cities."
Image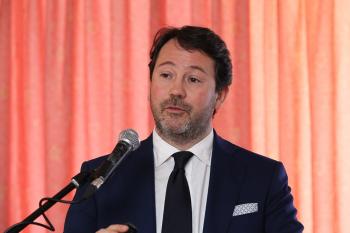 Italian architect Enrico Cleva, 'Wood is my life – it is all about wood.' Photo: courtesy MIFF
Adaptive response
An extension of the theory of biophilia, biophilic design recognises that we have evolved for more than 99% of our history in adaptive response to the natural world, and not to human-created or artificial forces.
"We became biologically encoded to associate with natural features and processes. Rather than being vestigial – or relevant to a world that no longer exists – this need is thought to remain instrumental to people's physical and mental health, fitness, and wellbeing."
The use of natural materials such as wood, and spaces that include natural geometrics like fractals and curves can be highly evocative of biophilic design.
"But biophilic design is more than just a new way to make people more efficient by applying an innovative technical tool," says Cleva.
Image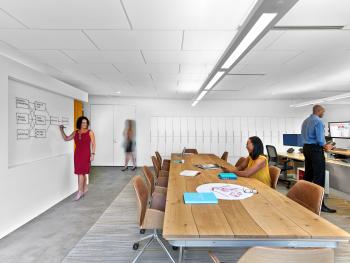 The biophilic-influenced American Society of Interior Designers' new HQ by Perkins+Will is Platinum rated by LEED. Photo courtesy ex&co
The world beyond
"Successful application of the concept fundamentally depends on adopting a new consciousness toward nature – recognising how much our physical and mental wellbeing continues to rely on the quality of our connections to the world beyond ourselves."
He says the assumption that humans no longer need to affiliate with nature is revealed in the widespread practice of placing people in sensory-deprived and artificial settings such as office buildings, hospitals, schools and shopping centres.
"Much of today's built environment is designed lacking adequate natural light, natural ventilation, natural materials, vegetation, views, environmental shapes and forms … As structures, they remind us of the old-style zoo, now ironically banned as 'inhumane'."
Image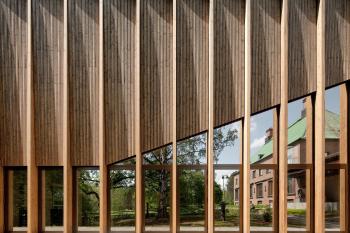 Gosta Pavilion, Finland - true biophilic design beings nature indoors. Photo courtesy Finnish Wood Awards
Environmentally impoverished
Cleva believes these 'environmentally impoverished' habitats foster fatigue, symptoms of disease and impaired performance. "Yet, the simple introduction of natural lighting, outside views and vegetation can result in enhanced health and productivity."
He agrees that the recent trend in green architecture has reduced the environmental impact of the built environment. "But it has accomplished little in the way of reconnecting us to the natural world – the missing piece in the puzzle of sustainable development."
Image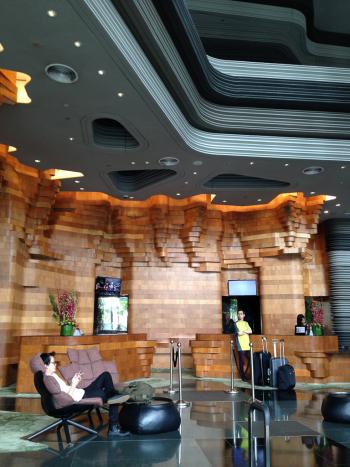 The Parkroyal Hotel Singapore by WOHA is a standout example of 'topographical' sustainable architecture. Photo courtesy ec&co
WELL building
Cleva cites the WELL building standard – the first of its kind to focus solely on the health and wellbeing of building occupants – as an example of the way forward.
"It is expensive and not widely applied outside North America, but it is a proven solution to so-called 'sick building' syndrome. You know those places: where you don't see the sun and the light is always the same.
"But with WELL, the building has to have a positive impact on the occupants. When you are in a WELL building you HAVE to feel better and you don't need to go outside to feel nature.
"Think about Canada, for example, where much of the year you cannot be outside. So you have to create a built environment with good temperature and humidity; a kitchen in natural, anti-microbial materials; serve fruit and vegetables not burgers; water and not pop; make the stairs more obvious so people take them instead of the elevator. It is a way of life."
Image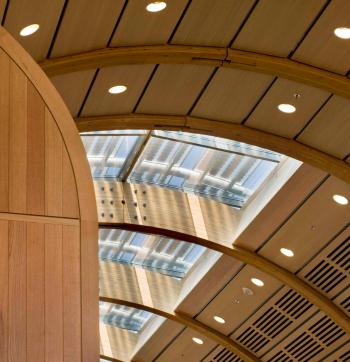 Wood and spaces that include natural geometrics evocative of biophilic design. Photo: Red oak elements, Yale University courtesy AHEC
The best material
Materials are fundamental to WELL and the more natural the better, he says. "Wood, in my opinion, is the best material of them all: it is natural, insulating and warm. Wood is my life – it is all about wood. I doubt we have done any projects without wood elements."
How important is sustainability to him as a specifier? "I don't buy anything – food or otherwise – that is not sustainable. In Italy where we have no natural energy like oil or gas, wood is very important in design for its insulating properties as well as aesthetics.
"It has a lot of very good gifts and thus we have always been very conscious of the value of wood. But if I cannot be sure it is certified, I will not use it – which is partly why I like European oak. I know it is from sustainable sources."
Image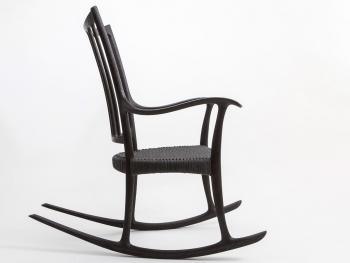 "What is the best chair? Does it improve your life and the interior?" Photo: Scorched oak rocker courtesy UK Wood Awards
Natural interface
Cleva also advocates more professional liaison between interior designers and furniture makers. "Furniture is the natural interface between our body, the concept and the space of the interior environment."
But he also believes furniture manufacturers need to think beyond the obvious: "A chair is not just a chair – there are 20,000 billion comfortable chairs out there. Furniture is part of something much bigger; something that defines a space.
"What is the best chair? Does it improve your life and the interior? The chair cannot be detached from the flooring, lighting and windows. Manufacturers should work with the concept of the chair beyond the fact that it might be comfortable or look ok on its own."
(Footnote: Enrico Cleva is co-owner of ec&co, an architectural, interior design and international business development consultancy based in Milan. He was interviewed at the 2017 Malaysian International Furniture Fair.)
Story by Tony Neilson – photojournalist and the former publisher of timber+DESIGN magazine.