Innovation in CLT for a challenging site
From the press release:
S3 Architects director Stephen Smith says his practice's design for the proposed six-storey apartment building, which incorporates 25 residential units and ground floor commercial tenancies, uses a cross-laminated timber structural system.
"This construction method allows for precise off-site prefabrication and efficient on-site assembly, which brings time and cost savings," Smith says. "New Zealand can be a world leader with this timber technology.
"I also wanted to demonstrate that with a bit more effort in design and construction, we can significantly reduce the energy use in our buildings."
S3 Architects will work with developer Ockham Residential to develop the competition-winning design into a completed building.
Visit S3 Architects' website here.
Visit Ockham Residential's website here.
Read the full press release in Scoop Media here.
Wood products
Image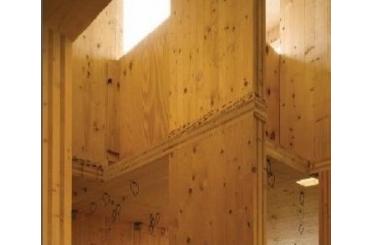 Cross Laminated Timber (CLT)
Cross Laminated Timber (CLT) is an engineered wood product, similar in construction to an extremely large plywood, used for pre-fabricated structural applications.