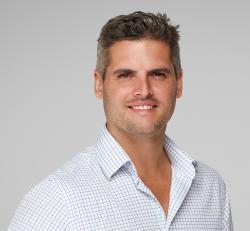 Australia has been late to the game in developing offsite and timber mid-rise residential construction. Western Australia is falling even further behind, as some states begin to adopt the timber frame model in their developments. In this blog we talked to Stuart Hawley, a Perth builder/developer from Bluerock Projects, who is hoping to use his latest project as a demonstration to drive the uptake of timber mid-rise building systems in the WA market. 
DeHavilland Apartments is a mixed use, medium rise building to be constructed in the north-eastern suburb of Midland, Perth. Nine apartments and an office space will make up the DeHavilland building, which is situated on a long and narrow corner site. The project will use an innovative timber framed building model, which Stuart hopes will drive a shift into medium rise timber use. 
Stuart has experience building with timber internationally, but saw a surprising lack of innovative timber buildings of this kind in WA. Hawley says a lack of confidence and the specific WA style construction business model has held back developers from considering timber framing for three or more storeys. 
Currently in the early stages of construction, the design goal for DeHavilland was to create apartments with a unique and luxurious feel, at a cost that's affordable to the professionals who are occupying the former industrial suburb of Midland. The historically industry-based area has been through recent gentrification, and Hawley wanted to reflect this in the aesthetic. Eliminating drop ceilings in the apartments gives an industrial exposed piping look, and allows the budget to be allocated to innovative amenities, like car chargers and solar PV collectors on the roof. These energy savings will go straight back into the occupants' pockets. The target demographic for the project is a progressive generation, who value the sustainability benefits of timber and renewable energy. The 90 square metre apartments offer more floor space than an average 2 bedroom, 2 bathroom apartment, due to the savings through the timber model. MJA Architects were brought on to undertake the design of the apartments.
The timber framed structure is something of a new direction for Bluerock Projects, in that they hope the new model will be one of the early disruptors in the WA market. Hawley predicts that the decision to use timber framing will save both in cost and timeframe. Bluerock's model has them operating as both developer and builder. By vertically integrating the carpentry team they can save on subcontracting, and ensure the team has the appropriate knowledge and skills for this type of structure. They hope to develop a consistent supply chain through the new project to make the model even more efficient for the future.
Currently, certain specialist building materials in WA can be more than twice that of other states, and Hawley says suppliers were waiting for a confirmed project before providing competitive pricing. Options of prefabricating some of the elements is still being explored. This could bring additional savings on a traditional model of building with in-situ concrete and steelwork. The lack of confidence from other developers stems from the fact that suppliers and fabricators are unable to provide accurate cost estimates without a full set of drawings, and this requires a lot of time and commercial investment from developers for a project that may end up unfeasible. However Hawley has taken the reigns and done the legwork for the project, which is now well on its way to becoming a reality. 
DeHavilland is a Class 2 structure, which means it has higher requirements for fire ratings, acoustic ratings and structural properties. Thicker linings and timber battens increase the wall thickness, while autoclaved aerated concrete panels and acoustic dampeners contribute to the thicker floor dimensions, improving both thermal and acoustic efficiency. 
The project will use engineered LVL timber for beams, columns and joists, while traditional stud framing will be used for walls. Although the cost of fire ratings prohibit the timber to be exposed in the apartments, the beauty and scale of the engineered timber can be seen proudly along the ground level carpark. Engineering requirements enable the use of timber framing to a 4 storey structure and beyond, however once a certain height is reached many elements must become mass timber due to the forces involved, but Hawley hopes that the knowledge and performance of timber framing and mass timber will grow and in turn expand timber applications in construction and development in WA and nationally.
Construction of DeHavilland will commence in 2019.