Trains, planes and automobiles; logs, plies and wood-composites.
With the Wood Program over, I took the opportunity to experience more of Europe's wood construction and design offering. Alongside fellow WP students we journeyed from Finnish 'summer' to warmer settings south, hunting as many variations on wood construction as we could find. First stop; Paris!
Image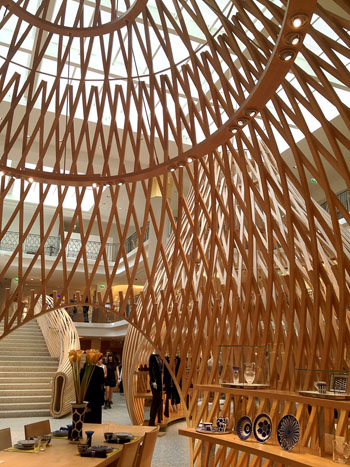 Inside one of the wooden pods of Hermes Paris
Photo: Nicolas Pratt
The crème de la crème of wooden design was immediately offered to us. Multiple tear-drop shaped 'pods' adorned the interior of the high-end Hermes flagship store in Paris. The diagrid structures formed a centrepiece for the store, which continued its wooden motif with solid timber shelves and, most notably, a grand wavy wooden staircase through the store. As previously featured on WoodSoultions this bent and 'woven' wooden design offered a somewhat serendipitous appetizer for our next destination.
Image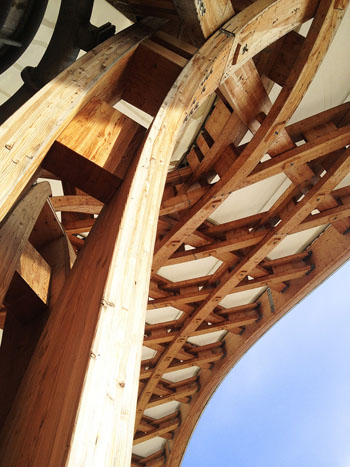 The bent and laminated structure of the Pompidou Metz
Photo: Nicolas Pratt

An afternoon's drive from the chaos from Paris, we arrived in Metz with a contemporary, high-tec and exemplary timber building waiting for us amidst a sleepy medieval town. The Metz Pompidou centre, from 2010 by Shigeru Ban showcased the latest in wood building techniques and contemporary wooden design. Featuring, again, a 'woven' wooden roof design thanks to an enormous amount of bent, laminated, CNC routed and pre-fabricated digitally designed components the building only left us craving more wood! The star-crossed timber roof was much more interesting than the rest of the steel structured building. It was clear that the wood undeniably made this building memorable.
Image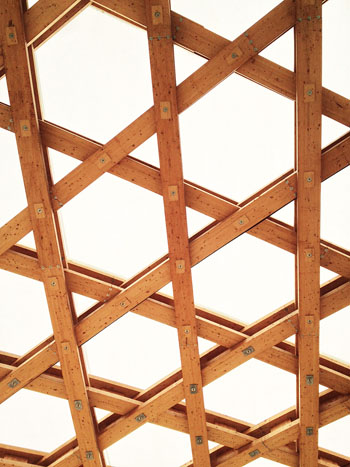 The star shaped crossing of members
Photo: Nicolas Pratt

Image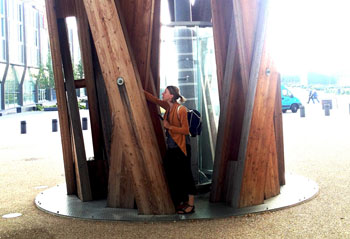 Tuuliki checking out the timber columns
Photo: Nicolas Pratt

Through Germany we were treated to a plethora of intricate wooden doors, ornaments and 'half-timbered buildings'. One of the most surprising finds on our trip these widely-used wooden constructs have the distinct German look of exposed timber post and beams and (literally) revealed woods durability.
Image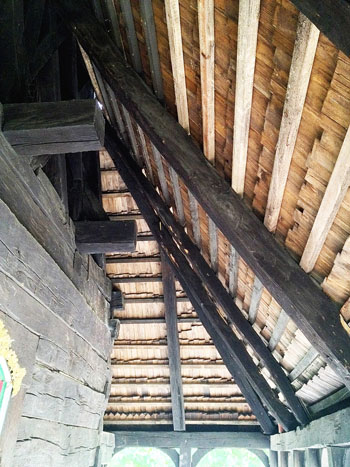 Timber structure under the shingled roof
Photo: Nicolas Pratt

From Metz to Prague and thus the new to the old. Our next great discovery was a timeless 17th century wooden church. An amazing instance of woods longevity and accessibility, St. Michaels Church in central Prague - composed entirely from wood - has been relocated twice, each time being built, dismantled and re-assembled generations apart. Featuring original wooden components such as interlocking shingles, traditional log-cabin style walls and ornate wooden bolts, the 110m2 church reaches 17m high and stood for 136 years after its first relocation, finding its current resting place in 1929. The blackened timber comprises the entire structure, its beams and joinery exposed; giving us a glimpse into past wood construction techniques and demonstrating, once again, woods ability to stand the test of time.
Image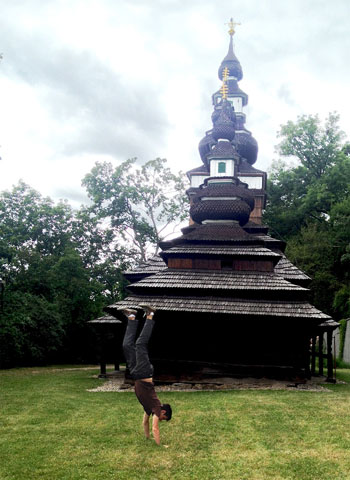 Handstands in front of the wooden church
Photo: Nicolas Pratt

From the medieval cities of central Europe we headed south to Spain and Portugal; stone buildings dominated. It was curious that wood, which is commonly perceived as a 'traditional' material wasn't used amongst Iberian buildings as much as one might think. Obviously wood's heyday is still to come.
Image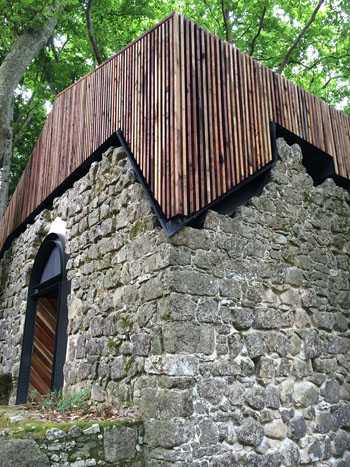 The beautiful wooden addition to this once ruined chapel
Photo: Nicolas Pratt

This was exemplified in a 12th century decayed stone building. São Pedro De Canaferrim Chapel in central Portugal was in ruins for centuries prior to its wooden resurrection in 2013. Featuring a small timber interior, new wooden roof, skin and structure the once ruined church is now an archaeological centre and premier wooden building.
Our last stop had us visit yet another type of wood design typology. Restaurant 560 in Lisbon, Portugal mixed the contemporary with the time-honoured. Walls, ceilings and floors of the currently trendy orientated stand board (OSB) mixed delicately with the sleek traditional Portuguese tiles. The trends which timber can progress through were epitomized here and the modest use of wood – and subsequent magazine exposure - ensured the restaurant was well-known and booked out!
Image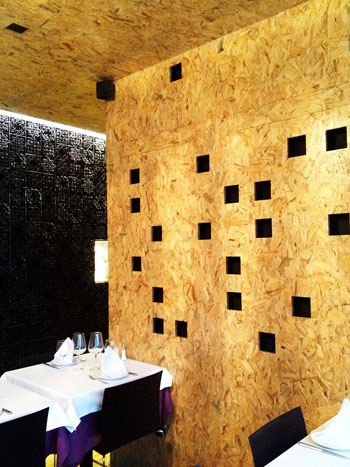 OSB wraps around the entirety of this restaurant interior
Photo: Nicolas Pratt

Across Europe and through multiple building typologies wood was omnipresent. From highly-crafted interior décor to low-cost fit-outs wood impressed. Between large structures, antique exemplars, contemporary modernizations and traditional applications we definitely varied our exposure to Europe's wood offering. Timber commonly made these buildings special despite the use, material or design.
Enough travel for now, back to the workshop!
Nicolas Pratt