One of twenty titles in the range of technical design guides, the WoodSolutions Domestic Timber Deck Design Guide covers decks that are associated with Class 1 structures (such as detached houses, villas and townhouses) and Class 10 structures (such as garages, sheds and swimming pools) according to the National Construction Code (NCC) Volume 2.
Image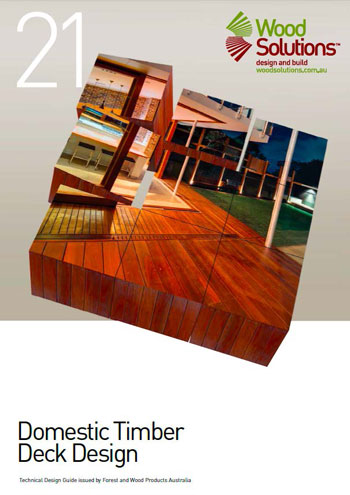 In twenty four pages the Guide provides general information covering everything from bushfire construction requirements and termite protection to fixing and finishes.
Advice on deck use and maintenance is also included, as is an appendix with solutions to common deck problems.
The Guide is available as a free download here, hard copies can be purchased from SAI Global.
Please note: For the design and construction of decks for commercial, industrial or marine applications, or where a deck has to take heavier loads such as tiles, spas or even vehicles, a structural engineer must be consulted.