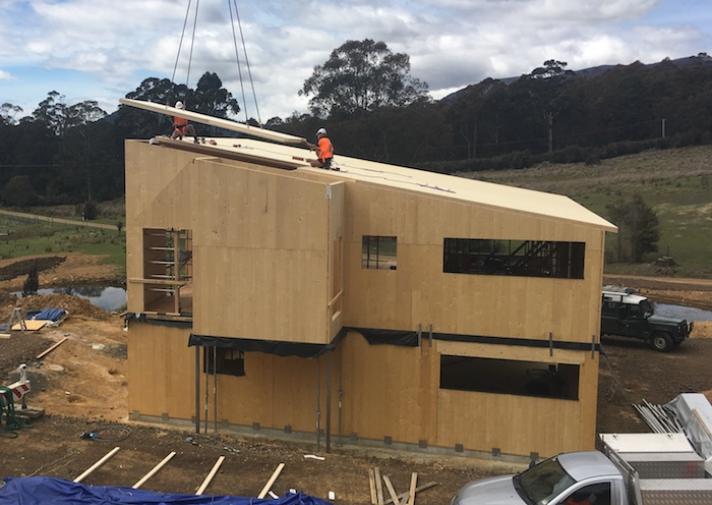 Tasmania's first CLT House
| | |
| --- | --- |
| Blog by | |
| Organization | |
| Posting Date | Friday, November 24, 2017 - 13:00 |
---
Building a CLT home on Mt Wellington. The story so far.
In 2010, my wife was elected to the Tasmanian Legislative Council and through negotiations for the Tasmanian Forest Agreement we became very interested in the whole timber industry and we started looking for ways to add more value to our wood harvest than simply selling it as woodchips.
We ended up traveling to Europe (and yes, I paid my own way!) where we were fortunate enough to tour Stora Enso's CLT plant. It was fascinating. The efficient use of resources was remarkable, virtually no part of the tree that comes into the plant goes to waste.
We saw CLT panels being made, and having visited some CLT buildings, we were also impressed by the ambience of the interiors. The acoustics, the thermal insulation and the whole feel of being inside felt different to a brick and concrete or even a traditional timber-framed home.
We have a site some 25kms from the Hobart GPO, it's at an altitude of 600m behind Mt Wellington and we've been planning on building on it for the last ten years, but discovering CLT kicked things into action.
The last panels going on
Fortunately, we found some local firms, NEXT 50 Architects and the Prefab Lab, who had experience in designing and delivering offsite construction and they've been great to work with.
It took us the best part of eighteen months to come up with a design and then get council approval.
It's a very simple design, 12 metres square and two stories. The upstairs area has our kitchen living area, two bedrooms with walk-in wardrobes and two bathrooms. Downstairs there are another two bedrooms, a bathroom, laundry and a big space which will be my woodworking studio where I make furniture.
One of the ways in which this is different to other CLT builds that have been done in Australia is that all the internal faces will be exposed. That's meant that the provisions for running utilities and services have been done at the rear of the panel. The ceilings will be CLT too, with exposed services downstairs.
The cladding will match the shed
Externally, the building's wall and roof will be clad in thin strips of Colorbond® in two contrasting colours, with insulation between the CLT and the metal, plus triple glazed windows. We anticipate the finished home to have an 8.5 star energy rating.
Inside, downstairs - workshop plus!
I'll keep you in touch as we get further through the project.