Prefabricated timber framing the environmental choice.
A 5,000-home development, North West Bicester is to be built in four phases onto agricultural land to the north-west of Bicester in the UK. The first phase, entitled Exemplar, comprises 393 homes and it's recently been announced that it will be built in prefabricated SIPS in a proprietary system called Sigma II. Energy efficiency was one of the factors driving the decision.
Other features of the new housing and community include triple glazing, centralised heating and the UK's largest residential solar array.
Some of the homes are also designed to allow the easy addition of extra working or living space, to maximise the utility and reuse of the building and its materials.
Image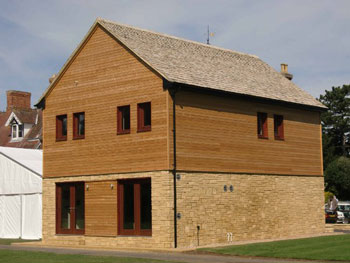 An example of a SIPS prefabricated home
Read more about the project at the UK's Green Building Magazine
Discover more about the Sigma II prefabrication system at Stewart Milne Timber Systems