The State of Modern Multi-Story Timber Construction
 The advent of modern engineered wood products, such as cross laminated limber, laminated veneer lumber, laminated strand lumber, parallel strand lumber and glue laminated lumber has opened a plethora of construction opportunities for those who look for more holistically efficient ways to produce beautiful structures.
Presently there are roughly 29 modern multi-story heavy timber and heavy timber hybrid buildings in existence around the world. This list includes structures that were built after 2005, are 5 stories or more in height, and contain substantial heavy timber components. This does not include the numerous light frame construction projects in existence.
Since 2005 with the first 5-story CLT building being constructed in Trondheim, Norway, we have seen a global explosion of interest in modern multi-story heavy timber construction. The majority of these projects have been constructed in the last 3 years, with at least another 15 projects in progress for the next 3 years. Large name companies have shown significant attention to modern timber construction including Australia's Lendlease, Austria's Rhomberg Group and the United States' Skidmore Owings and Merrill.
There are a variety of reasons for such broad international interest in these projects including remarkable environmental benefits, swift construction times and competitive cumulative costs.
These projects have not been confined to one geographical location, but can be found across the globe. The world map below illustrates the geographical distribution of these 29 modern heavy timber buildings. It should also be noted that all of these area have a strong history of heavy timber construction prior to the 1940's including Australia, although that is a story for another time.
Image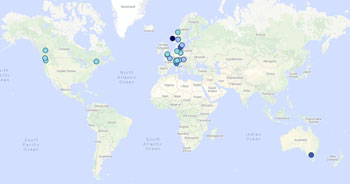 World Map of Modern Multi-Story Heavy Timber Projects
Darker colours indicate taller buildings
Image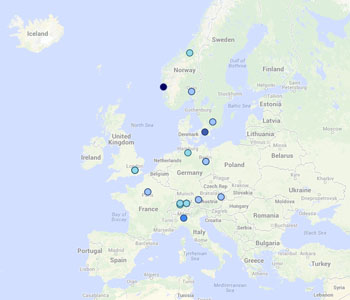 Close up of European Projects, multiple projects overlap in major cities such as London
These heavy timber projects were generally pushed forward by the advent of cross laminated timber (CLT). CLT inspired architects and engineers to re-examine the way we use timber products and the possible structures that can be created from them.
With renewed inspiration many architects and engineers have developed solutions that do not use CLT in their heavy timber designs, but follow modified post and beam methods or state of the art hybrid construction solutions.  
We can divide these modern multi-story marvels into a variety of categories based on construction systems. The first break down can be split into three simple sections:
all-wood construction
wood-concrete construction
wood-steel construction
All wood construction, accounting for 52% of these buildings, is generally the preferred standard when regional regulations allow the construction of such buildings.
Wood-concrete hybrid buildings (41%) are popular in many regions and optimize the structural and architectural design to meet local requirements.
Wood-steel hybrid buildings (7%) are not extremely common, but represent one solution for a specific design problem set.
The table below illustrates the geographical layout and composure of modern heavy timber buildings. It can easily be noticed that there are already specific construction trends for different markets. Within these markets we see a variety of solutions being adapted to fit different architectural problem sets.
Image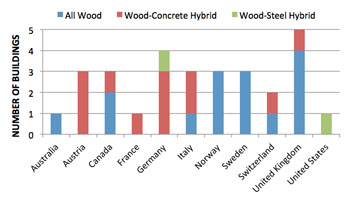 Modern Multi-Story Heavy Timber Projects
* Projects are 5 stories or more and primarily composed of heavy timber products.
Some solutions, specifically in the United Kingdom tend to focus on assemblies entirely composed of CLT elements. Other areas such as Switzerland or Norway take a more varied approach using refreshed post and beam construction methods to reach for the sky. Each of these solutions has a range of benefits specific to each design situation.
The variety of functional methods for each architectural situation continues to increase as more architects, engineers, and developers become comfortable at working with modern timber products.
There are a number of projects under development with buildings up to 14 stories in height and proposals of up to 42 stories, although the majority of projects will likely stay between 6 and 12 stories.
The next step in the boom of modern timber is to optimize each set of building solutions to a specific market place and furthermore to each specific project based on an array of criteria. The development of modern timber construction is just warming up with the future presenting many exciting opportunities.  
Case Studies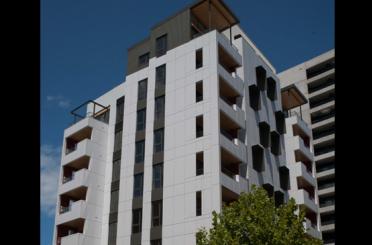 Forte Living
Forte Living is a 10 storey apartment building made from cross laminated timber (CLT), an innovative new timber construction material.