► WoodSolutions Webinar | Designing for Buildability – Tolerances, Handling and Speed in Construction
Tuesday, September 28, 2021 - 11:00
---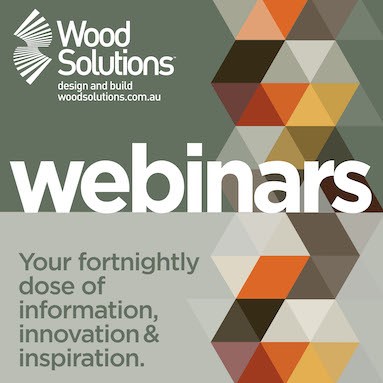 Description
Designing for buildability is critical for fast construction and the assurance of avoiding surprises on site. By following certain principles, timber buildings can be installed faster than conventional buildings.

In this presentation, Adam Jones, Technical Manager for CLT manufacturer XLam and Rohan Jones, General Manager of Savcon, a leading mass timber construction company, will present on a range of critical design & construction topics including:
- Designing to allow for tolerances in connections
- Practical on-site tips for timber assembly
- Critical design and buildability advice to enable fast and successful installation

Understanding and designing for tolerances is critically important – come and learn from the experts.
Speakers
Adam Jones, Technical Manager for CLT manufacturer XLam
Adam Jones is the Technical Manager for XLam Solutions, specialising in the design, manufacture and assembly for engineered wood products (EWPs) and is deeply engaged in building specifiers to create low carbon and healthy buildings. He was one of the leading contributors to the WoodSolutions Structural Engineering Technical Guide for EWPs for Australian Engineers. He is passionate about assisting design teams in adopting mass timber products with the consideration of structure, acoustics, fire, regulations, manufacturing and assembly.
Rohan Jones, General Manager of Savcon
Rohan Jones is the General Manager of Savcon a position he has held since 2011, prior to this he was Savcon's Construction Manager for over a decade. For the past 3 years has been responsible for identifying growth opportunities within the industry. With the emergence of Mass Timber Construction in Australia, he has spearheaded industry specialists to form an elite team, which has enabled Savcon's growth and development into one of the global industry leaders in Mass Timber Construction.
---
Catch up on what you have missed! We record every webinar.

---
By registering for this free WoodSolutions webinar you agree to having your details added to the WoodSolutions database. They will not be sold or shared with any other organisation. You can read the WoodSolutions privacy policy here: https://www.woodsolutions.com.au/page/privacy-policy.

After you have been added to the WoodSolutions database, you will receive an email asking you to confirm your registration and set a password. Should you wish, you can opt out at this stage.

As a registered user you will be able to download WoodSolutions technical design guides, fire test reports, other publications, view recordings of past webinars.