WoodSolutions | Timber Engineering Design Webinar (6-part series) - Part 3: Whole of Building Performance
Thursday, August 6, 2020 - 11:30
---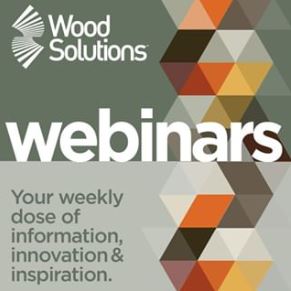 This FREE 6-part webinar series intends to up-skill engineers in the design & decision-making associated with buildings constructed using timber. Upon completion, engineers & design professionals will be equipped with a greater awareness across the skills needed to design timber structures & with a knowledge specific to timber engineering design.

The workshop provides a foundation in timber engineering & goes on to focus on the three structural systems in timber construction – timber-frame, post & beam, & mass timber. Presenters Dr Jon Shanks & Prof. Geoff Boughton will guide you through these systems for entire buildings & as individual elements within overall building systems.

Part 1: 'Material Basics & Wood Products' will discuss tree growth, wood fibre properties, moisture movement & the suite of wood products.

The webinar series consists of:

1. Thurs 23rd July – Material Basics & Wood Products

2. Thurs 30th July – Engineering Design to AS1720.1 & Other Sources

3. Thurs 6th August – Whole of Building Performance

4. Thurs 13th August – System focus 1 – Timber Framed Construction

5. Thurs 20th August – System focus 2 - CLT & Other Mass Timber Construction

6. Thurs 27th August – System focus 3 - Post & Beam & Hybrid Construction

By registering for this free WoodSolutions (WS) webinar you agree to having your details added to the WS database. They will not be sold or shared with any other organisation. You can read the WS privacy policy here: https://www.woodsolutions.com.au/page/privacy-policy.

After you have been added to the WS database, you will receive an email asking you to confirm your registration & set a password. Should you wish, you can opt out at this stage.

As a registered user you will be able to download WS technical design guides, fire test reports, other publications, view recordings of past webinars, listen to Timber Talks podcasts & submit Expert Advice questions.
Speakers
---
Dr Jon Shanks
Director @TimberED Services
Jon is a timber engineer providing consultancy and educational services for everything timber; whether Japanese carpentry, a multi-residential building, or a long-span grid-shell. He has worked in Australia and overseas on many cutting-edge engineering design and timber engineering research projects. He is passionate about assisting all parts of the building industry to embrace the opportunities that timber offers.
Prof. Geoff Boughton
Timber Engineer @TimberED Services
Geoff has worked for over 25 years in all things timber and is well known to many in the timber and building industries in Australia. He is a member of Australian and international timber standards committees, lectures in timber design at the University of WA and has written a timber design handbook.