Founded in 1986, Casey Brown Architecture is an architectural studio based in Sydney with over 100 built projects across Australia. We are a design-led studio devoted to creating contemporary architecture through an organic understanding of building.  We design in direct response to climate, topography and lifestyle. This perspective creates a preference for lasting architecture of unpretentious functionalism, characterised by a richness of palette and detail throughout. We seek to solve problems and we transcend solutions to create memorable spaces.
This non-prescriptive approach takes each client, site and brief as something one-off and special.
Projects on Woodsolutions
Image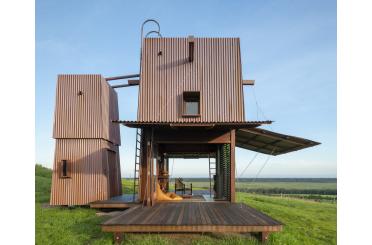 Permanent Camping
Casey Brown's second 'Permanent Camping' structure comprises two ironbark-framed, copper-clad towers that sit sculpturally in the vast rural landscape.