Fire ratings can be achieved with timber in a number of ways. The three most common are:
Protecting timber by covering it with a good insulator such as fire-rated plasterboard - this means that the timber takes longer to get to ignition temperature and can remain functional for a longer period while the fire is burning.
Using oversized timber - this will allow for loss of material charring throughout the burn period, and there will still be enough timber remaining in the cross-section to give it the required strength.
Treating timber with fire-retardant chemicals - this delays the initiation of combustion, and can prevent the spread of flame. 
Protection with insulators
A number of building system manufacturers have had their systems tested and a fire resistance level (FRL) awarded to the system. The implementation of the system in design is simply a matter of ensuring that the design complies with the specified building system and that all of the details at the edge of the system are able to prevent a fire from bypassing the system that has been adopted. The previous tests demonstrate the performance of the system so that it is 'deemed to satisfy' the provisions of the Building Code of Australia (BCA).
Image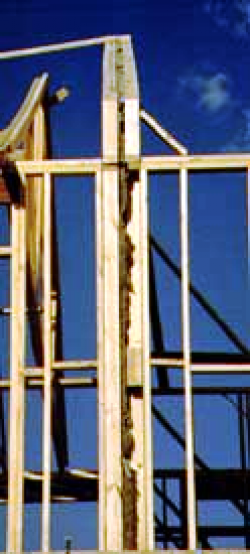 In the wall system pictured, fire performance is achieved through the installation of fire-rated plasterboard each side of the double stud wall as well as insulation between them. This system serves two functions as it also provides superior sound insulation characteristics; there is little solid material between the two faces of the wall to act as a 'sound bridge'.
Protection by oversizing
Timber burns from the external surfaces only. After ignition of the timber, there will be a charred region which acts as an insulator and tends to protect the wood fibres in the centre of the beam. With time, some of the timber cross-section is lost. However, the remaining timber can and does have structural strength and stiffness.
The sizing of timber to allow sufficient residual strength after a fire can be achieved by following AS 1720.4. This part of the Timber Structures Code models burning as a constant char rate (based on species density). This is used to determine the size of the residual section that is required to carry the load at the time of the fire. The Code also gives help in determining the fire limit state loading, which is significantly less than the loads required to meet ultimate strength limit states.
Image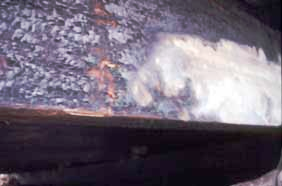 Image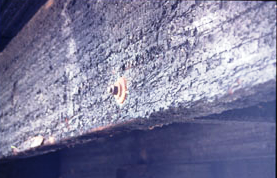 Typical char rates are about 0.5 mm/min for hardwoods and 0.65 mm/min for softwoods. In addition to the loss of section attributed to charring, AS 1720.4 also applies a further envelope reduction of 7.5 mm to account for heat-affected timber. Most timber structures where charring is used to achieve BCA-specified fire ratings are made from large sections. These are most commonly available as glulam or LVL sections. Fire tests have shown that the glulam or LVL members can be regarded as solid timber for the application of AS 1720.4.
To view a list of fire test reports available for download, please visit the Fire Test Report page
This section relates to the following WoodSolutions Technical Design Guides that can be downloaded by cliking the links below.
Please note that you will have to be a registered user of WoodSolutions and logged in to download.
Technical Design Guide 01: Timber-framed Construction for Townhouse Buildings Class 1a
This guide considers MRTFC (Multi-Residential Timber Framed Construction), a certified fire and sound rated timber construction system conforming with the requirements of the Building Code of Australia (BCA) for multi-residential buildings.
Technical Design Guide 02: Timber-framed Construction for Multi-residential Buildings Class 2 & 3
The Timber-framed Construction for Multi-residential Buildings Class 2 & 3 Design and Construction Guide provides designers, specifiers, builders, code officials and certifying authorities with information on MRTFC fire-resisting timber-framed construction that complies with the BCA. 
Technical Design Guide 03: Timber Framed Construction for Commercial Buildings Classes 5, 6, 9a & 9b
This guide is temporarily unavailable as it is being revised.
Technical Design Guide 04: Building with Timber in Bushfire-prone Areas
This guide has been updated in accordance with the recently released bushfire standard AS 3959-2018 Construction of buildings in bushfire-prone areas.
Technical Design Guide 06: Timber-framed Construction - sacrificial timber construction joint
Standard details for common locations where timber sacrificial blocks can be used to form these construction joints in walls and floors for specified Fire Resistance Levels.
Technical Design Guide 15: Fire Design
Despite public perceptions to the contrary, timber buildings can be designed to be very safe in fires and other emergencies.
Technical Design Guide 17: Fire Safe Design of Timber Structures
An introduction to the fire safety design of timber buildings in compliance with NCC this guide is suitable for a broad range of building practitioners including fire safety engineers, building certifiers, structural engineers, fire authorities, architects, and building consultants. 
Technical Design Guide 20: Fire Precautions During Construction of Large Buildings
The role of this document is to provide information to help the broad range of people and organisations with responsibilities for fire safety on a construction site to reduce the risk of fire.
The three guides below have been written to assist in providing specific advice to designers, specifiers, builders, regulatory and certifying authorities.
Technical Design Guide 38: Fire Safety Design of Mid-rise Timber Buildings
This Guide describes the DTS solutions in the NCC 2016 for mid-rise timber buildings and explains the underlying fire safety principles.
It provides details of the fire engineering analysis undertaken to compare the mid-rise timber building solution with non-timber DTS solutions, and presents useful data and analysis methods relevant to the fire safety design of timber buildings.
Technical Design Guide 45: Code of Practice - Fire Retardant Coatings
This guide has been written to provide a Code of Practice to enable the use of fire retardant coatings applied to wood products, via the Performance Solution pathway, as a means of achieving the fire hazard properties required by the NCC.