Location
University of Tasmania, Newnham campus, Launceston + ONLINE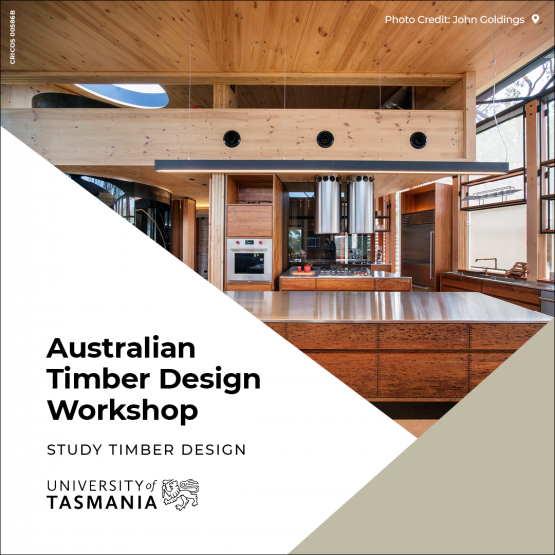 Discover the latest timber design and construction options in a unique, hands-on event.
The Australian Timber Design Workshop (ATDW) is a two-day intensive professional workshop made for building design professionals interested in timber-rich construction to develop skills, confidence and networks in a unique, hands-on event. The workshop combines self-paced online learning, presentations with key industry speakers, and learning-by-making workshop sessions. The University of Tasmania and the University of Queensland are collaborating to deliver this course with concurrent workshops running:
• In Tasmania at the School of Architecture and Design facilities at Newnham, Launceston.
• In Queensland at the University of Queensland facilities, St Lucia Campus, Brisbane.
You'll design solutions with large-scale, industry provided timber components, assemble them in our workshop and test items to failure.
Maintain and increase your skills in timber design and construction with expert presentations and practical workshop sessions.

Learn about the latest research findings on timber, including its capacity and contribution to a low-carbon economy.

Collect your electronic certificate on completion of course.
MEET YOUR FACILITATOR
Professor Gregory Nolan is the ATDW academic lead
Director of the Centre for Sustainable Architecture with Wood and a registered architect, Greg has been active in education and research aimed at improving the use of timber and wood products in sustainable building and recovering the most use from the available forest resource since 1994. Working closely with the building design professions and others, Professor Nolan has published widely on timber in construction, particularly through manuals and design guides.