Start/End Date
26 Nov 2021 11:00am-12:45pm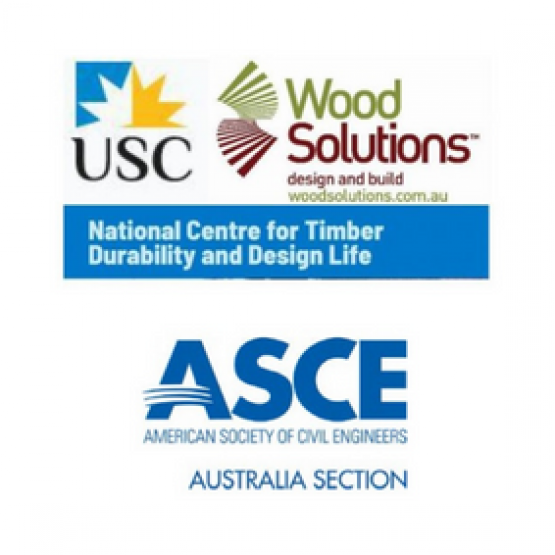 Durability, Fire Safety and Design of Tall Timber Buildings

Joint Event: ASCE Australia Section, University of the Sunshine Coast (USC)-
National Centre for Timber Durability and Design Life & Wood Solutions
Date: Friday, 26 November 2021
Time: 11:00 am – 12:45 am in Canberra, Melbourne, Sydney
Venue: Virtual Zoom Mini-Symposium
RSVP: https://us06web.zoom.us/webinar/register/WN_u4YPfod0QGO87JMazok9MA
Cost: This is a free event
Mini-Symposium Chair: Dr Saeed Mahini (Treasurer, ASCE Australia Section & USC Academic)
Presenters
Prof. Jeff Morrell
Jeff Morrell is Director of the Centre for Timber Durability and Design Life at the University of the Sunshine Coast. Prior to joining USC in 2018, he was based out of Oregon State University in the US where he directed the timber durability program. He has extensive experience working with decay issues in timber buildings and their prevention.

Dr Felix Wiesner
Dr Felix Wiesner is a Lecturer in Timber Engineering at The University of Queensland and the fire safety expert of the National Centre for Timber Durability and Design Life. He leads research projects aimed at better understanding of the fire performance of different timber species as well as the fire safety implications of wood treatments. His background is in structural fire engineering and the fire safety of timber structures, specifically engineered timber structures. He has expertise in the fire development in timber structures. His research has contributed significantly to the evaluation of the load bearing capacity of building elements in fire and the safety implications arising from the use of engineered timber as structural members in tall buildings.

Mr Toby Hodsdon
Toby is an Associate Structural Engineer at Arup with over 17 years' experience in the design, construction and maintenance of building structures. He has delivered a wide range of projects in Australia and internationally, including timber structures in the UK, United States, Philippines, Malaysia and Australia.

Toby is an active participant in industry and academia to promote the use of timber, and has published research work in the field. He is an Adjunct Associate Professor at Griffith University and sits on the board of the Future Timber Hub at the University of Queensland.
---
Programme

11:00 am Welcome – Prof. Rebecca Gravina
(President, ASCE Australia Section)

11:15 am Chair–Dr Saeed Mahini
(Treasurer, ASCE Australia Section & USC Academic)

11:30 am Durability of Timber Buildings:
Prof. Jeff Morrell
A basic primer of wood followed by discussion of moisture intrusion, decay and insect attack related to properties as well as prevention.

Summary:
All materials degrade, including timber, and all have the same basic issue- moisture. Designs that exclude moisture can limit the risk of wood decay, metal corrosion or concrete spalling. This presentation will outline a bit about requirements for decay, briefly discuss the causal organisms and then talk about methods for preventing attack during and after construction.

11:55 am Fire: The Basics for Tall Timber:

Dr Felix Wiesner
An overview of fire behaviour in timber as well as methods for protection to meet codes.

Summary:
Engineered timber has enabled the use of wood as the main structural material in increasingly taller buildings. This development has highlighted novel fire safety challenges which require understanding the effects of timber on fire dynamics in buildings. and ultimately assessment of the structural capacity of timber elements during and after a fire. This talk will introduce the basic principles of burning timber and discuss the effects of timber on the fire safety strategy. It will highlight current provisions in building codes as well as areas that require further development.

12:20 am Tall Timber Buildings:

Mr Toby Hodsdon
Connections/ wind loading/resiliency.

Summary:
Robustness and stability are key considerations for massive timber buildings and in this presentation, Toby will discuss the post-failure behaviour of timber frames, the stiffness of Cross Laminated Timber (CLT) walls and floors, composite action for CLT cores, and behaviour of overall stability systems. Tall buildings using timber will likely utilise concrete and steel to provide hybrid structural designs. Some examples and benefits will be discussed.

12:45 pm Close