Start/End Date
10 Feb 2022 11:00am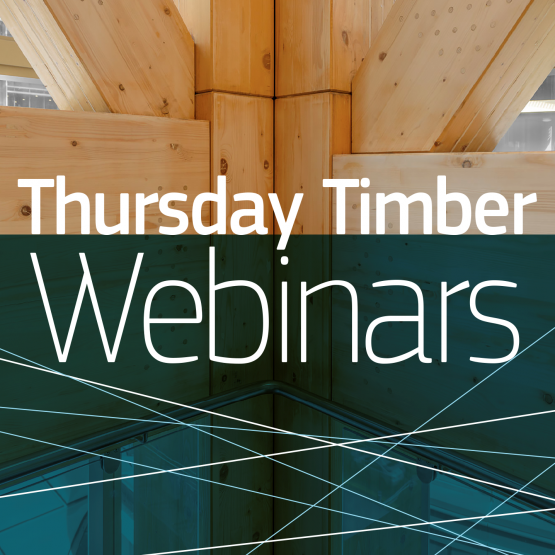 Description
Reducing embodied carbon of the materials used in construction is the next frontier to significantly reduce the carbon emissions of our entire industry. And indeed, as Ian Learmonth (CEFC's CEO) summarised it, "Australian developers and builders don't have to choose between sustainability and saving on costs." That's also thanks to the CEFC's Timber Building Program, just announced, which will offer $300 million in debt financing to encourage greater use of Engineered Wood Products.
A recent report from the CEFC identifies Australia's opportunities to cut embodied carbon in buildings. The CEFC found that timber-based projects, in the 2 case studies shown in the report, achieved a reduction of respectively 74 and 75 per cent compared to a concrete-based benchmark.
You will hear from our speakers about their insight into the significance of this task in the current market environment, and the state-of-the-art approach to designing for sustainability and wellness, with timber structures. They will be joined, in the final Q&A session, by the engineers involved in the 2 case studies mentioned in the CEFC report.
Speakers
Christina Wijeratne, Senior Associate, Investments at CEFC (Clean Energy Finance Corporation)
Jonas Bengtsson, Founder CEO, EDGE Environment
Q&A Panelists 
(to also quickly present facts & figures of their project)
Melissa Gaspari, Lead Consultant, Sustainability, Aurecon
Atreyu De Lacy, Technical Director, TTW
---
Catch up on what you have missed! We record every webinar.
Image

---
By registering for this free WoodSolutions webinar, you agree to have your details added to the WoodSolutions database. They will not be sold or shared with any other organisation. You can read the WoodSolutions privacy policy here: https://www.woodsolutions.com.au/page/privacy-policy.
After you have been added to the WoodSolutions database, you will receive an email asking you to confirm your registration and set a password. Should you wish, you can opt-out at this stage.
As a registered user, you will be able to download WoodSolutions technical design guides, fire test reports, other publications, view recordings of past webinars.