Start/End Date
23 Aug 2022 11:00am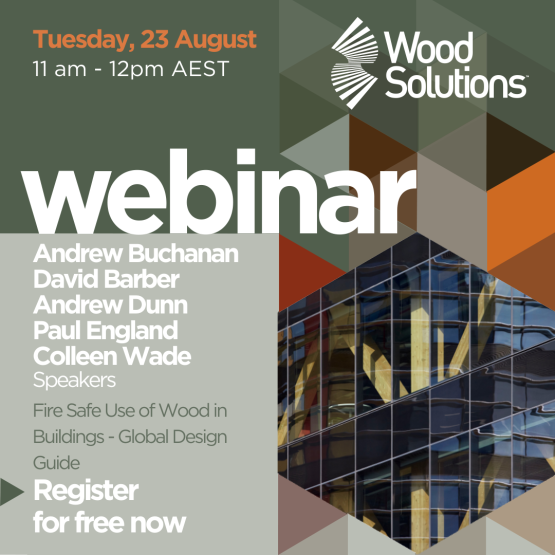 Description
This recently published Open Access book is the first of its kind, being a set of global guidelines for the fire-safe use of structural timber and wood products in buildings. The 462-page guide was developed by the Fire Safe Use of Wood global network, a network of leading fire and timber researchers from Australia, Canada, China, Czech Republic, Estonia, Finland, Germany, Japan, New Zealand, Switzerland, Sweden, Russia, United Kingdom and the USA.

It is based on the best current scientific knowledge, current codes and standards such as the Fire Part of Eurocode 5, and practical guidance. It provides details on separating and load-bearing functions of timber structures, with information on timber's reaction to fire. It also explores different regulation requirements from countries around the world.

The guide was edited by two experts Andrew Buchanan, Emeritus Professor of Canterbury University and PTL Structural Consultants, New Zealand and Dr Birgit Östman, senior advisor to Linnaeus University, Sweden. The guide contains the following chapters

1. Timber structures and wood products
2. Fire safety in timber buildings;
3. Fire dynamics
4. Fire safety requirements in different regions
5. Reaction to fire performance
6. Fire separating assemblies
7. Load-bearing timber structures
8. Timber connections
9. Prevention of fire spread within structures
10. Active fire protection by sprinklers
11. Performance-based design and risk assessment
12. Robustness in fire
13. Building execution and control
14. Firefighting considerations for timber buildings
Speakers
Andrew Buchanan, Emeritus Professor of Canterbury University
David Barber, Arup
Andrew Dunn, Timber Development Association
Paul England, EFT Consulting
Colleen Wade, Fire Research Group
---
Catch up on what you have missed! We record every webinar. 
Image

---
By registering for this free WoodSolutions webinar, you agree to have your details added to the WoodSolutions database. They will not be sold or shared with any other organisation. You can read the WoodSolutions privacy policy here: https://www.woodsolutions.com.au/page/privacy-policy.
After you have been added to the WoodSolutions database, you will receive an email asking you to confirm your registration and set a password. Should you wish, you can opt-out at this stage.
As a registered user, you will be able to download WoodSolutions technical design guides, fire test reports, other publications, view recordings of past webinars.