Treehouses are looking up
Title: Green, Hidden and Above: The most exceptional treehouses
Author/s: Sibylle Kramer
Photographer/s: Aalto, Pasi; Allen, Heidi; Ano, Daici; Apito, Bryan; Asghar Khan, Abdullah; Ashley, Emile; Attali, Erieta; Basten, Marie; Bauer, Maximilian; Bauroth, Felix; Berger, Florian; Besler, Andreas; Bollen, Markus; Borgmann, Roland; Brodmann, Uwe; Broman, Fredrik; Casaer, Joris; de Wit, René; Dujardin, Filip; Edinger, Jürgen; Efstathiou, James; Feider, Dustin; Fletcher, Joe; Fuchs, Malte; Fuhrmann, Petra; Galitsch, Elena; Garcia-Urrutia, Hugo; Gilbert, Tom; Gozzi, Iacopo; Hefer, Porky; Herfert, Josef; Herrmann, Monique; Hess, Axel; Hugendubel, Benedikt; Hurych, Martin; Jackson, Jesse; Jänicke, Steffen; Kauppi, Johan; Knudsen, Dag; Krause, Christoph; Lindman, Åke Eson; Lindvall, Kent; Lundström, Peter; Mair, Walter; Manupipatpong, Worapong; Matthews, Andy; Mayer, Uly; Meraner, Hannes; Naumann, Christian; Noonan, Sam; Oliveira Alves, Ricardo; Panchee, Kiattipong; Prihoda, Jiri; Redgrove, Benedict; Renner, Lisa; Richter, Christopher; Rirermvanich, Karjvit; Rudin, Jake; Salinas, Luis; Schulze, Stephan; Serramia Ruiz, Jordi; Stuart, Matt; Sumrak, Laura; Taylor, Piers; Thawley, Jason; Vestre, Øyvin; von Bornstedt, Heike; Wapenaar, Dré; Warchol, Paul; Yoshimura, Masaya; Zachary, Justin; Zeisser, Boris; Zingo, Andy; Zunzunegui, Iban.
Photographs courtesy of: AANDEBOOM, Utrecht; allergutendinge, Munich/Berlin; Andreas Labes, Berlin; Anyang Public Art Project; Baumbaron, München; Fischer Multerer Architekten, Munich; GLUCK+; Go Hasegawa & Associates; Helen & Hard; jonnysek – Fotolia; London Fieldworks, London; Luftschlösser; Nomad, Soul – Fotolia; OTCO+Latis, London; Pacific Environments NZ Ltd.; Phoenix Commotion; Play Perch student photographers; Petair – Fotolia; Sheepskin Ltd.; TADDEUS – Fotolia.
Editor: Sibylle Kramer
Design: Alessia Calabrò, Christine Dörner, Jakob Grelk
Translation: Geoffrey Steinherz
ISBN: 978-3-03768-193-0
Size: 249mm by 287mm, 264p.
Publisher: Braun Publishing
Publisher www: www.braun-publishing.ch
Image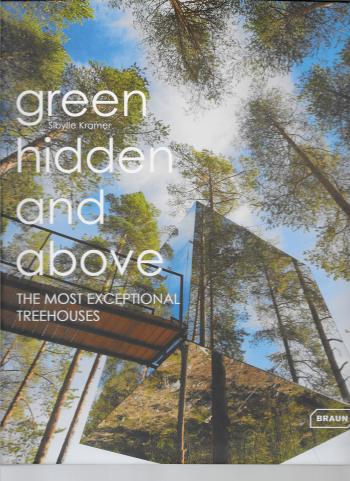 Green, Hidden and Above takes a particularly unique subset of houses and structures as its focus. There are few permanent dwellings in this book and even fewer that are drawn from a city environment. Instead, Sibylle Kramer has collected a variety of the most imaginative houses from treetops and forests that evoke a more pastoral lifestyle without limiting modern conveniences.
The book is divided into five sections, each based around themes drawn from the letters of the word 'trees'. These sections are loosely defined, with multiple words used as links between the case studies. It must be said that these themes and many of the buildings included stretch the definition of a treehouse further than might be expected, with a large number of the buildings neither being in a tree nor being a house. Kramer also has a distinctive writing style that tends to favour the romanticism and poetics of the structures rather than their function. However, there is a strong element of the poetical as they build beyond the dimensions that are usually considered, and so this voice is not completely out of place.
The first section contains the most visually surprising examples, from the Lightbox (14), a mostly glass room made from recycled windows and doors, to the Rooted Treehouse (40), built on, in and around the branches of a hundred-year-old oak tree. All of these houses are small so as not to detract from or impose themselves on their natural surroundings, and the natural surroundings are exquisite. The foremost examples of this are the Basque Country treehouses (54), nestling up to 17m above the ground in dense forest and curling around tree trunks as intimate romantic getaways.
The second sections, with keywords like 'romantic', robust' and 'recyclable', has the most beautiful wooden structures from Green, Hidden and Above. Wood plays a particularly noticeable role here, with several buildings using a weaving-like method to create delicate-looking spaces for reflection. The AA Cocoon (74) is such a structure, being a woven tube suspended between three trees in an open field. Similar structures are the Weaver's Nests (96), which in addition to utilising atypical weaving techniques also makes use of local materials in a variety of different countries. But not all of these buildings are rustic, with the Yellow Treehouse Restaurant (92) providing an example of how treetop spaces can be luxurious. This building hovers like a chrysalis or seed pod and can seat thirty diners at once.
'Elegant', 'efficient' and 'extraordinary' treehouses are the most flexible of the inclusions. Hanging tents, suspended houses and even urban treehouses present a variety of different living options. The swag-like Levitation Tent (154) is a comfortable camping alternative to a tent/sleeping bag combo, Deer Crossing (140) is an elegant fabric-draped pavilion supported by simple bolts and wires and the DIY Treehouse (152) uses an ingenious strap system to not only suspend the house, but also to hold the entire structure together. In these houses, design meets imagination to make simple, mobile dwellings that do not depend upon their environments.
The fourth section has connections based on education and public spaces, with city parks and play spaces for children making a strong showing here. The buildings are designed to invite people within to experience their multi-level formation or their natural surrounds. The Shelter of Nostalgia (172) is an art installation that wraps around a structural column like a tree and provides not just artwork for museum visitors to admire, but also a place to sit, relax and connect with people. A particularly playful example of children's play and public space is Ratatosk (184), comprised of bisected ash trees, the halves of which surround a small play area with willow splices interweaved overhead. Not all of these inclusions are small in scale, however, as evidenced by the Sustainability Treehouse (202), built for the Boy Scouts of America as a gathering and educational space, enveloped in the forest and heavily promoting sustainability.
The final section of Green, Hidden and Above examines the smaller and more personal structures, showing the lookouts, houses and cubby houses that form a part of everyday life but still have a connection to the treetops. The amateur-constructed Visible Studio (218), the child's Tree Ship (250) playground or the simple Treehouse Over Winterthur lookout all show that life in the trees in not necessarily expensive, extravagant or out of reach for the average person.
Green Hidden and Above is an accessible view into how houses can conform to their natural environments. While not focusing on questions of sustainability, the overarching theme of treehouses does promote design in tune with nature. The book is a pleasant reading experience.