WoodSolutions Technical Design Guides - Mid-rise Timber Buildings
Go to the mid-rise timber resources home page
See the companies sponsoring the program
Meet the Mid-rise Advisory Team members here
Written for designers, specifiers, builders, regulatory and certifying authorities, WoodSolutions Guides provide comprehensive, easy to use advice on meeting the requirements of the NCC.
The National Construction Code1 2016 Volume One (NCC), Building Code of Australia, Class 2 to Class 9 Buildings, allows the use of timber construction systems under the Deemed-to-Satisfy (DTS) Provisions for Class 2 (a building containing two or more sole-occupancy units (SOUs) each being a separate dwelling), Class 3 (residential buildings, other than buildings of Class 1 or 2, which are a common place of long-term or transient living for a number of unrelated persons, including hotels) and Class 5 (offices) buildings up to 25 metres in effective height, known as mid-rise construction - see figure below.
Image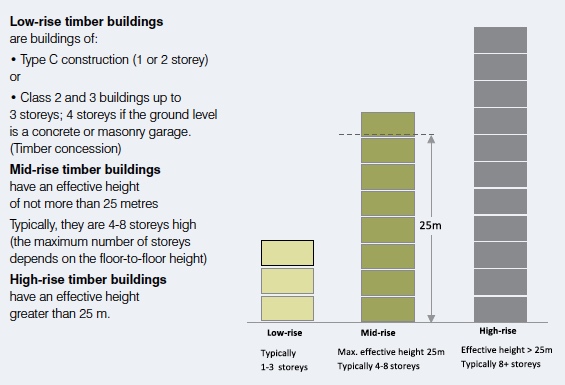 The new provisions cover both traditional 'lightweight timber framing' and new 'massive timber' systems such as Cross-laminated Timber (CLT) and consist of the use of appropriate layers of fire-protective grade plasterboard – termed 'fire-protected timber' in the NCC – and the use of compliant automatic sprinkler systems.
Printed copies of these and other WoodSolutions' Guides are available for purchase from SAI Global.
Note: to download documents please go to the base of this page. You must be a registered user to download documents – registration is fast and free.
37 Mid-rise Timber Buildings
Image

Simple, easy-to-follow steps to meeting fire and acoustic requirements

This Guide explains how to achieve the targeted fire and sound Performance Requirements in the National Construction Code (NCC) for Class 2 (sole occupancy), 3 (multi-residential) and Class 5 (office) mid-rise timber buildings using the Deemed-to-Satisfy pathway for fire-protected timber introduced in the 2016 edition of the NCC.

CAD Files

Details of figures in this Guide in Revit, CAD, Archicad, pdf and jpg formats are available for download as zipped archives at base of this page.
38 Fire Safety Design of Mid-rise Timber Buildings
Image

Details of the principles and fire engineering analysis done to support the 2016 changes to the NCC to help you design or determine compliant performance solutions

This Guide:

describes the DTS solutions in the NCC 2016 for mid-rise timber buildings and explains the underlying fire safety principles
provides details of the fire engineering analysis undertaken to compare the mid-rise timber building solution with non-timber DTS solutions
presents useful data and analysis methods relevant to the fire safety design of timber buildings
39 Robustness in Structures



Image

A best practice guide for Australian buildings offering advice, design methodologies and details for typical building types.

This Guide has been written by specialists to give background on the subject of structural robustness and provides practical advice to building designers on how this new requirement can be met. The Guide covers all structural materials, with a particular focus on timber.

CAD Files

Details of figures in this Guide in Revit, CAD and Archicad formats are available for download as zipped archives at base of this page.