This guide provides reference data and methodology advice for cost engineering activities directly and indirectly associated with the design, procurement and installation of wood structures in Australia, especially with reference to mid-rise buildings (four or more levels).
There has been a rapid growth in the use of Engineered Wood Products (EWPs) across the property industry. Since the delivery of Australia's first mid-rise contemporary wood building – Forté Living from Lendlease – structural wood products have been used to construct a variety of buildings across the country. This trend has been supported by amendments to the National Construction Code (NCC), which since 2016 has provided a Deemed-to-Satisfy (DtS) solution for timber construction to an effective height of 25 metres (from 2019 applicable to all building classes), and has been further backed by the WoodSolutions free advisory program in this field.
While many detailed guides have been published on the design and maintenance of timber structures, there has been relatively little focus on the specifics of costing and ultimately building them. This guide has been prepared to address the specific cost-related knowledge and approach that needs to be considered throughout the development process, with respect to the Australian Cost Management Manual and other relevant publications.
Written in conjunction with Rider Levett Bucknall, a leading independent organisation in cost management, quantity surveying, project management and advisory services, this guide has been divided into sections associated with the typical activities of a cost engineer. While each section is complete on its own, the reader will gain most benefit by considering them to be inter-related, and it is recommended that the document is read as a whole.
This guide refers to projects that are based on either individual Wood Products or systems, or their combinations. Further information on the nature, performances and design of such products and systems can be found, with a comprehensive and comparison-based approach, in WoodSolutions Technical Design Guide #46 Wood Construction Systems. Other guides within the WoodSolutions library offer more detailed information specific to a given application.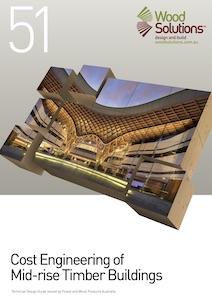 Cost Engineering of Mid-rise Timber Buildings
This guide identifies and explains the typical differences between the costing of wood-based projects with respect to those using other systems, as described by the six main categories shown in Figure 1.2. Drawing on examples from a database of relevant completed projects, the text discusses several considerations under each category of difference, suggesting how they may be best measured and allowed for. Table 1.1 summarises what these differences have typically been shown to include.