WoodSolutions EXPAN Technical Design Guides
These Guides are based on the EXPAN system, which is the result of years of research and a unique collaboration between commercial and academic partners to create innovative structural timber solutions.
Combining all the strength and endurance of steel into the lightweight elegance and flexibility of timber, the EXPAN prefabricated construction system brings timber into the commercial and industrial design age.
EXPAN's totally prefabricated technology cleverly embeds post-tensioned tendons into timber to lock the system together. The range includes revolutionary timber frame, wall and floor systems and quick-connect portal frames.
The result is a cost effective, time efficient system that opens new doors in design and construction of commercial and industrial buildings.
With EXPAN, you can use engineered timber framing to create wide open spaces and build layouts with flexibility like never before – without the need for closely spaced columns or walls.
Printed copies
Hard copies of most WoodSolutions guides are available for purchase from SAI Global.
Special Conditions
WoodSolutions Design Guides have been developed to provide an authoritative source of information for design and construction professionals, the timber industry and other interested readers. Written by specialists, each guide aims to present the most up-to-date information to facilitate compliance with regulations including the National Construction Code (NCC).
Please Note: Elements of the NCC may vary between states and local jurisdictions. Check with your local authorities if you are unsure.
The guides are available at the base of this page. You must be a registered user to download documents – registration is fast and free.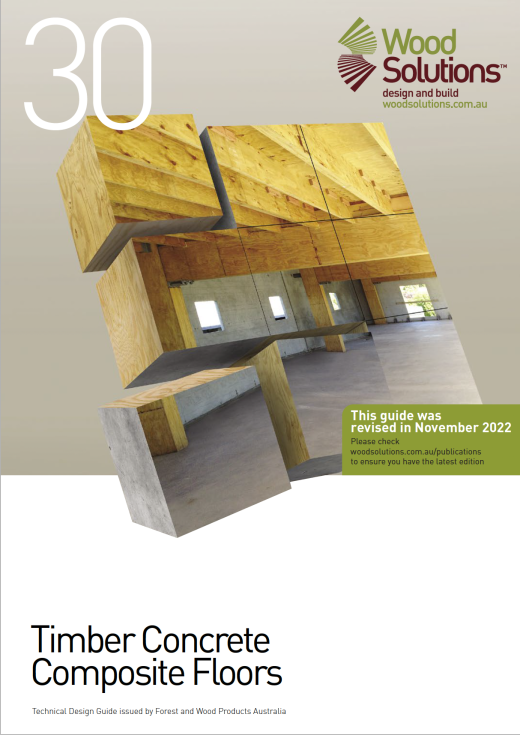 EXPAN Timber Concrete Composite Floors
Timber Concrete Composite Floors presents design procedure for TCC floor structures with worked examples of spans up to 10m. The guide covers design, performance, acoustic considerations and manufacturing provisions.
The guide includes:
Design requirements and procedure

Acoustic performance

Manufacturing provisions

Provisions for holes in timber joists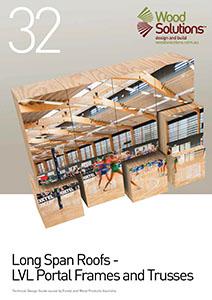 EXPAN Long Span Roofs – LVL Portal Frames and Trusses
Three types of efficient timber roof configurations have been included in Long Span Roofs – LVL Portal Frames and Trusses. The guide presents optimised design solutions for a range of long span LVL portal frames and trusses under different loadings.
This guide includes:
Portal frame with inner prop solutions

Double-pitch portal frame solutions

Truss solutions

Summary of trends and findings

Examples detailing wind load calculation and truss design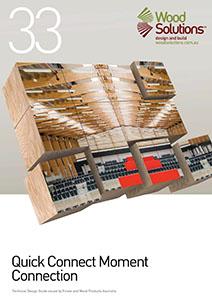 EXPAN Quick Connect Moment Connection
A new rod-based connection overcomes many of the issues experienced with traditional portal frame structures. Quick Connect Moment Connection provides detailed design approaches for a variety of connection types.
This guide includes:
Design of quick-connect connection

Quick-connect moment connect flow chart

A detailed design example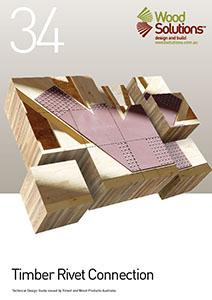 EXPAN Timber Rivet Connection
Efficient connection can be achieved by decreasing the difference between the capacity of wood and rivets. Timber Rivet Connection explains the timber rivet connection, optimised for the use of structural seasoned wood products.
This guide includes:
Timber rivet connection design process flowcharts

Detailing of rivets and rivet plates

Structural design approach

Design examples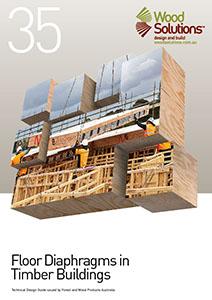 EXPAN Floor Diaphragms in Timber Buildings
Floor Diaphragms in Timber Buildings presents designs for flexible and rigid diaphragms, including structural elements and connections. It covers the terminology, concept and design of timber diaphragms, as well as a design example.
The first part of the Guide presents the terminology, concept and design of timber diaphragms with their connections to the lateral load-resisting system (LLRS). The second part reviews a design example of a timber-concrete diaphragm and its connections to the LLRS. The diaphragm is subjected to the wind load applied perpendicular to its long side.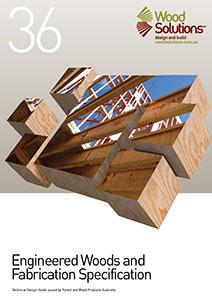 EXPAN Engineered Woods and Fabrication Specification
Engineered Woods and Fabrication Specification presents a summary of the fabrication and installation specifications of LVL and glulam, including recommendations for storage, transport and assembly. It also covers moisture considerations.
This guide includes:
Fabrication specifictions

Timber storage, transportation and handling

Mould and moisture prevention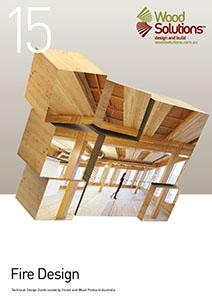 Design for Fire
A summary of fire safety design in timber buildings, Fire Design covers a number of considerations. It looks at EXPAN-developed systems, structural stability in fire conditions and design to reduce the risk of fire spread.
The guide covers:
Junctions Between Building Elements

Use of Sacrificial-Timber Blocking

Roofs, Walls and Floors

Non-Fire-Rated Steel Beam Pocket Support

Design Assistance