Plywood box beams are lightweight, structurally efficient, economical and simple to fabricate.  They provide a conventionally stable means of structural support for building construction.
Hard copies of most WoodSolutions guides are available for purchase from SAI Global.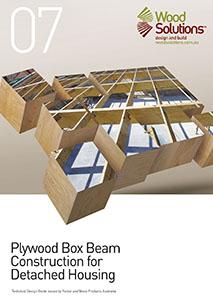 Plywood box beam construction for detached housing
This design guide provides a series of span tables designed according to the limit state design theory and for wind speeds up to N3 for detached single and two-storey houses.  These span tables introduce new options for beams incorporated into walls, portal frames and other typical long span applications.