Used correctly in residential structures, thermal mass can moderate daily temperature fluctuations, leading to more comfortable interiors and reduce the energy used for artificial heating or cooling. If thermal mass is used incorrectly, the opposite can occur.
Printed copies
Hard copies of most WoodSolutions design guides are available for purchase from SAI Global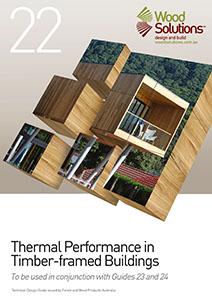 Thermal Performance in Timber-framed Buildings
This Guide gives a simple step-by-step overview of housing design for greater thermal comfort.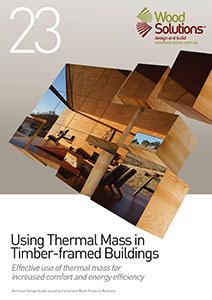 Using Thermal Mass in Timber-framed Buildings
This guide was written following an analysis of existing rules of thumb and existing design guidance. It is based on analysis of both real-world and computer simulations of thermal mass in typical project homes and experimental structures in several Australian climates.
The project revealed the following surprising results:
It is possible to have too much thermal mass

Thermal mass is more useful in some climates than in others

How much thermal mass to use, and whether to use it in the floor, walls or ceiling, depends on the local climate

Thermal mass needs to be in one place to aid cooling and a different place to aid heating

The size and location of the windows has as large an influence on the thermal efficiency of a space as the quantity of thermal mass

Because the manufacture of many materials with high thermal mass results in high carbon dioxide emissions, the inclusion of thermal mass may actually increase rather than reduce the carbon emissions of a building, when viewed across its entire lifecycle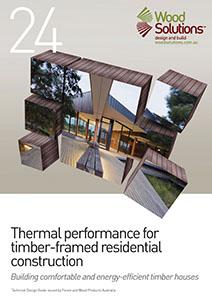 Thermal Performance for Timber-framed Residential Construction
The Guide includes:
general and climate specific considerations

modelled house case studies

principles for thermal comfort

useful references for further reading