This design guide covers timber framed construction in various building classes, providing simple step-by-step guides to achieving BCA compliance.
WoodSolutions Technical Design Guides have been developed to provide an authoritative source of information for design and construction professionals, the timber industry and other interested readers. Written by specialists, each guide aims to present the most up-to-date information to facilitate compliance with regulations including the National Construction Code (NCC).
Please Note:  Elements of the NCC may vary between states and local jurisdictions. Check with your local authorities if you are unsure.
Printed copies of most guides are available for purchase from SAI Global.
The guides are available for download at the base of this page. You must be a registered user to download documents – registration is fast and free.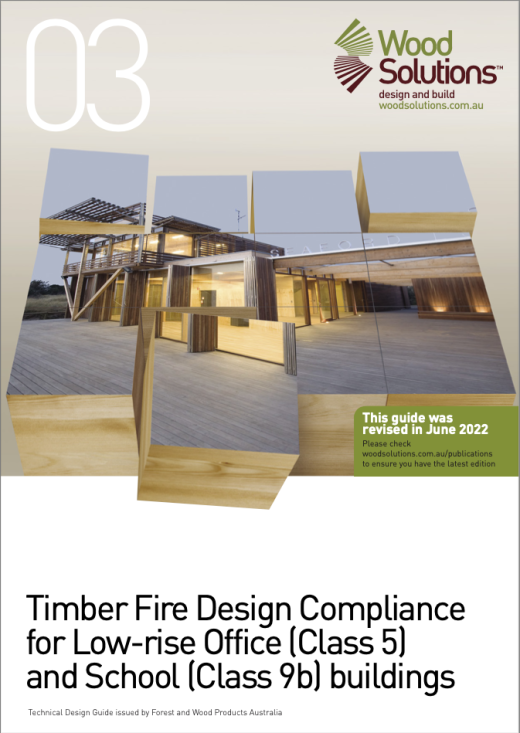 Timber Fire Design Compliance for Low-rise Office (Class 5) and School (Class 9) Buildings
This Guide has been written for designers, specifiers, builders, code officials and certifying authorities who want to use or interpret fire-resisting timber construction that is Deemed-to- Satisfy with the National Construction Code's (NCC) – Building Code of Australia, Volume One (BCA)1 for low-rise Office (Class 5) and School (Class 9b) buildings.
The Deemed-to- Satisfy compliance pathway discussed in this Guide is another option other than the recently adopted mid-rise timber buildings concession called fire-protected timber. This particular compliance pathway allows the use of fire-rated exposed mass timber or timber protected by fire–protective coverings.
This page also contains:
CAD details of all relevant drawings in TDG3
The details are available for the following CAD software formats: ArchiCAD (.mod), AutoCAD (.dwg), Revit (.rvt) as well as JPEG and PDF formats
NOTE: Each ZIP file includes a document that cross references each CAD detail to the relevant figure in TDG3