WoodSolutions Design guides have been developed to provide an authoritative source of information for design and construction professionals, the timber industry and other interested readers. Written by specialists, each guide aims to present the most up-to-date information to facilitate compliance with regulations including the National Construction Code (NCC).
Please Note:  Elements of the NCC may vary between states and local jurisdictions. Check with your local authorities if you are unsure.
Printed copies of most guides are available for purchase from SAI Global.
The guides are available for download at the base of this page. You must be a registered user to download documents – registration is fast and free.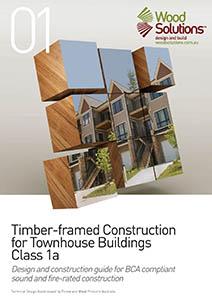 Timber-framed Construction for Townhouse Buildings Class 1a
MRTFC (Multi-Residential Timber Framed Construction) is a certified fire and sound rated timber construction system conforming with the requirements of the Building Code of Australia (BCA) for multi-residential buildings.
The Timber-framed Construction for Townhouse Buildings Class 1a Design & Construction Guide for BCA compliant sound and fire-rated construction demonstrates compliance with targeted fire safety and sound-insulation performance requirements for Class 1a attached buildings and associated Class 10a buildings.
Specific areas of performance addressed include:
Providing sound insulation in walls between dwellings
Protection against spread of fire both between dwellings and on external walls (where required).
It does not deal with fire detection and early warning in buildings (including smoke alarms), heating appliance issues, bushfires or fire in alpine areas. The guide provides certified construction details by utilising the BCA's Deemed to Satisfy Provisions. In addition, guidance beyond BCA minimum requirements is provided for those wanting to improve and upgrade sound performance.
This section contains the following resource:
Timber-framed Construction for Townhouse Buildings Class 1a
 
CAD drawings of the relevant figures shown in the design guide. The files are in the following formats - Archicad (mod), AutoCAD (dwg), Jpeg, pdf and rvt. The figures for which there are files are shown below.
To download the zipped files of the format of your choice, please login and go to the base of this page. Each format is accompanied by a Word file description that references the files to the figures in the guide