Wood and timber products used in the interior of a building are usually selected for their visual characteristics and so it is critical that these characteristics are maintained throughout the design life of the element.  This requires correct specification of timber grade, resistance to indentation and abrasion, and durability and resistance to bio-deterioration.
Hard copies of most WoodSolutions design guides are available for purchase from SAI Global
More detailed information on interior timber finishees is available here.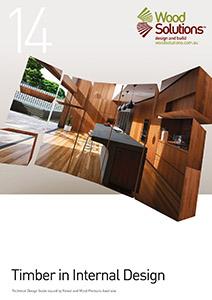 Timber in Internal Design
A resource for architectural and interior design professionals of design inspiration, assembly information and technical detail on the major aspects of using timber in interiors