WoodSolutions Technical Design Guides have been developed for architects, engineers, building designers and other building professionals.
Please note: Hard copies of most Guides are available for purchase from SAI Global.
Image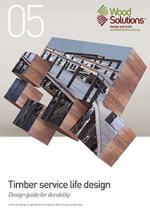 Design Guide 5 - Timber Service Life Design
Better or more cost-effective performance is achieved with better knowledge.  By careful consideration of the key factors affecting the durability performance of timber; industry, specifiers, and timber users can achieve durability performance for timber structures that meet or exceed their needs and expectations.
The Timber Service Life Design Guide, (available for download below) provides information to assist timber industry employees, timber users and specifiers of timber to select members and structures with respect to their service life requirements.

 
Image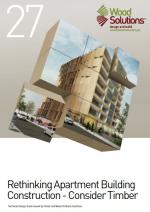 Design Guide 26-29 - Rethinking Construction Series
These Guides provide an introduction and overview of a research project that developed designs for four building types with timber solutions, as well as alternative designs with conventional steel portal or concrete construction.
The project aimed to provide a source of timber costing information to building professionals by comparing the cost of timber commercial buildings to the cost of those constructed using traditional materials.
The timber solutions were designed to optimise functional performance, constructability and cost effectiveness and provide guidance for compliance under the National Construction Code (NCC).
The project investigated an office building, apartment building, aged care facility and industrial shed.
Image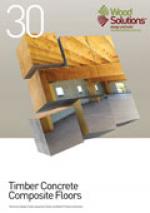 Design Guide 30 - Timber Concrete Composite Floors
This Guide presents a design procedure for TCC floor structures that is based on the Gamma method and AS 1720.1 Timber structures Part 1: Design methods
Image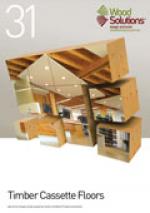 Design Guide 31 - Timber Cassette Floors
Discover the advantages of long span timber floors for commercial applications
This Guide presents a design procedure based on AS 1720.1: 2010 Timber structures Part 1: Design methods for composite timber floor structures, manufactured using EWPs such as LVL and glulam and fabricated into 'T or box beam 'cassettes'. The notations throughout this document are based on AS 1720.1
Image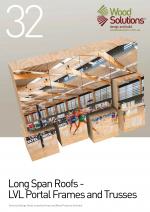 Design Guide 32 - Long Span Roofs
Design solutions for three roof configurations with spans from 10m to 70m
This Guide provides optimised design solutions for a range of long span Laminated Veneer Lumber (LVL) portal frames and trusses under different loadings.
These optimised design solutions respect the required structural capacities and deflection performances under the Australian Standards while using the minimum volume of LVL.
Image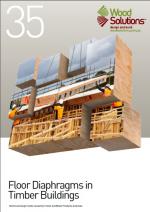 Design Guide 35 - Floor Diaphragms in Timber Buildings
A guide to designing flexible and rigid floor diaphragms, including structural elements and connections 
The first part of this Guide presents the terminology, concept and design of timber diaphragms with their connections to the lateral load-resisting system (LLRS).
The second part reviews a design example of a timber–concrete diaphragm and its connections to the LLRS. The diaphragm is subjected to the wind load applied perpendicular to its long side.
Image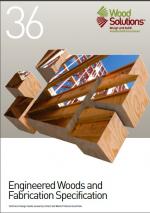 Design Guide 36 - Engineered Woods and Fabrication Specification
A summary of fabrication and installation specifications of engineered wood products, i.e. laminated veneer lumber (LVL) and glulam
This Guide provides recommendations for different steps of the timber structure supply chain, including storage, handling and transport, erection and assembly. It includes insect and mould preventions and moisture design considerations.
This is considered general information only and should not take precedence over manufacturers' literature and specifications
Image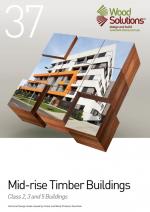 Design Guide 37 - Mid-rise Timber Buildings
Simple, easy-to-follow steps to meeting fire and acoustic requirements
This Guide explains how to achieve the targeted fire and sound Performance Requirements in the National Construction Code (NCC) for Class 2 (sole occupancy), 3 (multi-residential) and Class 5 (office) mid-rise timber buildings using the Deemed-to-Satisfy pathway for fire-protected timber introduced in the 2016 edition of the NCC.
CAD Files
Details of figures in this Guide in Revit, CAD, Archicad, pdf and jpg formats are available for download as zipped archives at base of this page.
Image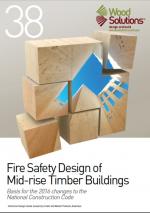 Design Guide 38 - Fire Safety Design of Mid-rise Timber Buildings
Details of the principles and fire engineering analysis done to support the 2016 changes to the NCC to help you design or determine compliant performance solutions
This Guide:
- describes the DTS solutions in the NCC 2016 for mid-rise timber buildings and explains the underlying fire safety principles
- provides details of the fire engineering analysis undertaken to compare the mid-rise timber building solution with non-timber DTS solutions
- presents useful data and analysis methods relevant to the fire safety design of timber buildings
Image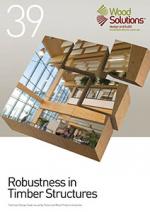 Design Guide 39 - Robustness in Structures
A best practice guide for Australian buildings offering advice, design methodologies and details for typical building types.
This Guide has been written by specialists to give background on the subject of structural robustness and provides practical advice to building designers on how this new requirement can be met. The Guide covers all structural materials, with a particular focus on timber.
Image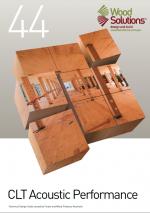 Design Guide 44 - CLT Acoustic Performance
The new guide contains the results of a research program into the acoustic performance of CLT in various system configurations, with the aim of demonstrating compliance with the NCC. The acoustic testing was managed by PKA Acoustic Consulting and carried out at New Zealand's Auckland University Acoustic Laboratory.
As CLT panels are available from different suppliers, the study used test panels from various manufacturers. The same CLT panel configuration from multiple suppliers was tested to allow for the variability of CLT products.
The results show that with attention to design detail, CLT panels can readily meet or exceed the regulatory acoustic requirements in the Australian market
Image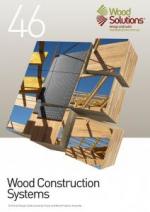 Design Guide 46 - Wood Construction Systems
This guide is designed to assist practicing structural engineers and other building design professionals to confidently develop conceptual structural designs for timber-rich buildings and structures. As many design professionals working on commercial scale structures are typically skilled with concrete and steel structures, this guide takes a whole-of-process approach to the selection of timber-rich structural systems. 
It explores available structural systems, connections and material options, and design approaches before providing a concise reference on the technical aspects of wood and timber products. It references other WoodSolutions Design guides and sources that can assist professionals developing their concept designs into detailed structural solutions.