Image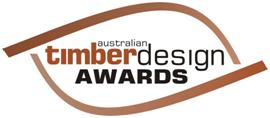 The Australian Timber Design Awards is a national design competition created to promote and encourage outstanding timber design in the built environment professions. Established in 2000, the Awards are distinguished by a heritage of innovation and achievement.
The aim of the Awards is to develop a timber design ethos by encouraging and showcasing outstanding timber design in a range of applications. A broad choice of entry categories demonstrates the flexibility of timber and allows projects to be judged against similar entries.
The Australian Timber Design Awards is open to builders, designers, architects, engineers, landscapers and anyone else involved in designing or building structures that feature timber.  To recognise the younger people in our industry, a separate section of the residential category is available to students and entrants aged 30 or under.
Timber is a beautiful, strong and environmentally friendly material. The Australian Timber Design Awards encourage entries that showcase these properties. Categories recognise outstanding use of timber in residential buildings and public or commercial buildings.
Australian Timber Design Award Categories
Timber Design Categories
Residential Class 1- New Buildings
Residential Class 1- Alteration or Addition
Multi-residential - including apartments, hotels and aged care
Public or Commercial Buildings
Interior Fitout - Residential
Interior Fitout - Commercial
Landscape
Stand alone structures
Furniture or Joinery
Australian Designed International Projects
Merit Categories
Sustainability
Rising Star
Small Budget Projects
Timber Products Categories
Australian Certified Timber
Engineered Timber Products
Recycled Timber
Sliced Timber Veneers And Pre-Finished Timber Veneers
Timber Cladding
Timber Flooring
Timber Panels
Timber Veneers
Timber Windows And Doors
Australian Timber Design Award Past Winners
For an inspirational stroll through more than a decade of outstanding timber design and construction, please go to the Winners Gallery.
Award entries and information
If you have been involved in the design or building of a timber structure completed in the last 3 years you are eligible to enter the next Australian Timber Design Awards. Please visit the Awards site for more information and entry requirements.