Utilising historic, convict-era timber salvaged from the property, two stunning extensions were constructed for this colonial manor house.
Project Name
"Rebarn" – Acton Homestead
Location
Acton Park
Acton Park TAS 7170
Australia
Image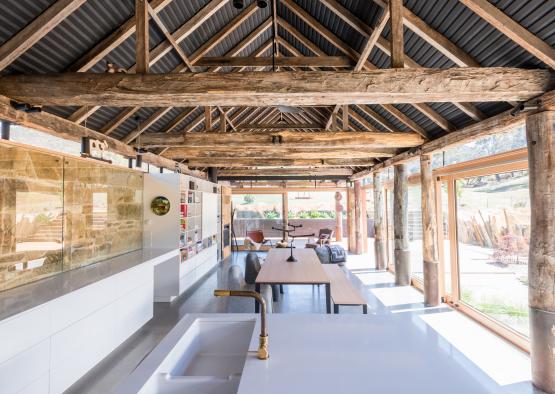 Overview
All houses evolve over time. Acton is a 200 year old homestead, and has evolved from an early colonial manor house, attended to by servants and convicts, with two separate kitchens and a number of families working on the property, to what it is today – a family home sitting on a much smaller acreage. 
Two absolutely wonderful clients saw the truly unique quality of the ancient timbers, and respected the Heritage recommendations that old material from the demolition should be reused wherever possible. They acted as true patrons for the evolving cultural heritage of the historic homestead. The new extensions, and indeed the whole house, are immeasurably richer as a result.
By dismantling the old barn and incorporating its materials into the exposed structure of two new wings of a Georgian Homestead, the Acton Homestead has become a tour de force project, which the word 'unique' barely begins to describe.
Structure
The old structure, which includes the reuse of what is believed to be the longest stick of colonial timber (18m) still extant in Tasmania, has enriched the new building, creating a totally original dialogue with the past. 
Every stick of timber used in the making of a barn (built circa 1820) was carefully taken to pieces and was reused wherever possible. All of the original timber was either adzed logs or pit sawn timber, and was cut, carted and erected by convict labour. It has been estimated that 50 convicts would have been necessary to carry the largest, an 18m long adzed log, which was used as a support beam for the rafters. It is believed to be the longest stick of timber used in early Tasmania. This beam was largely rotten in its interior, so epoxy was employed along with timber inserts to restore its structural integrity. It has now been restored to its original purpose.