Grimshaw uses glue-laminated timber to achieve a sweeping canopy roof, reminiscent of Papua New Guinean longhouses.
Project Name
Kutubu Convention Centre, Port Moresby, by Grimshaw Architects
Location
Port Moresby National Capital District
Papua New Guinea
Photographer Details
Michael Kai and Adam Bruzzone
Image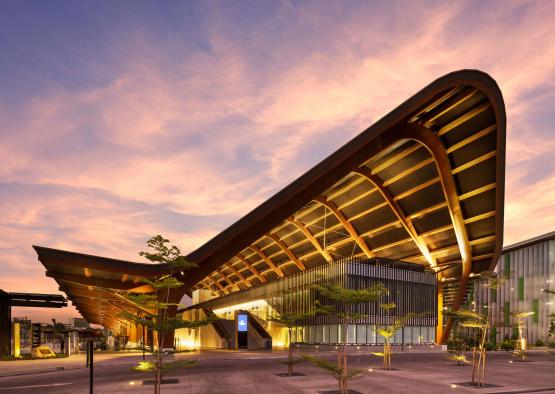 Image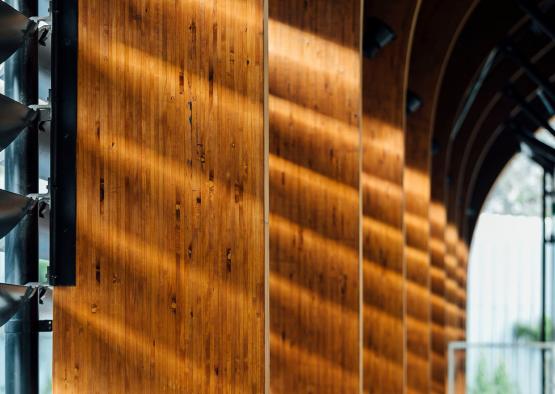 Image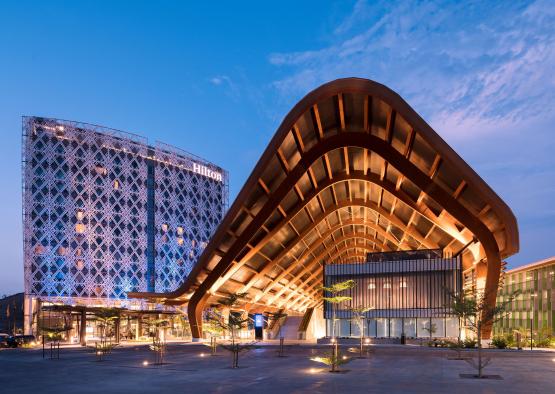 Image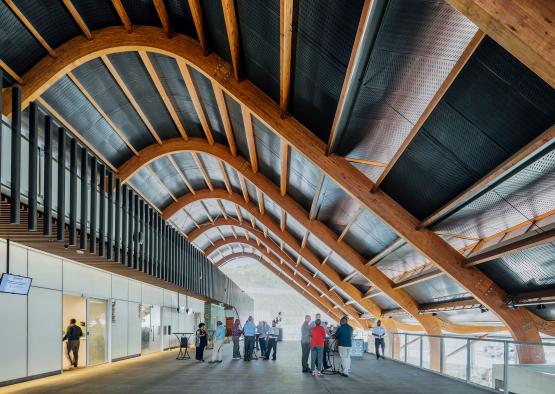 Image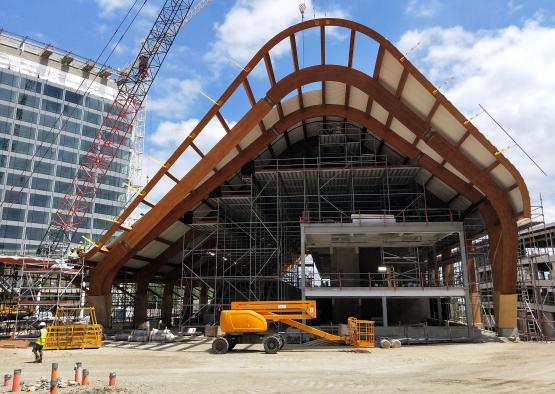 Image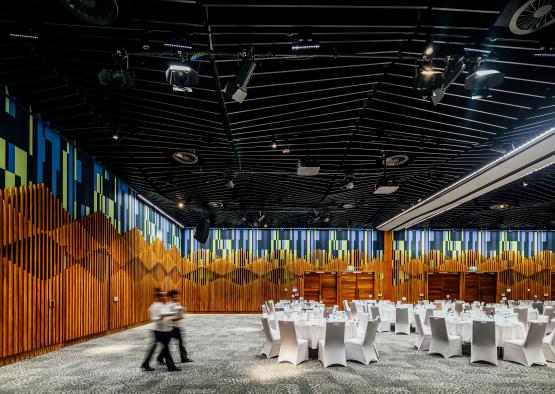 Image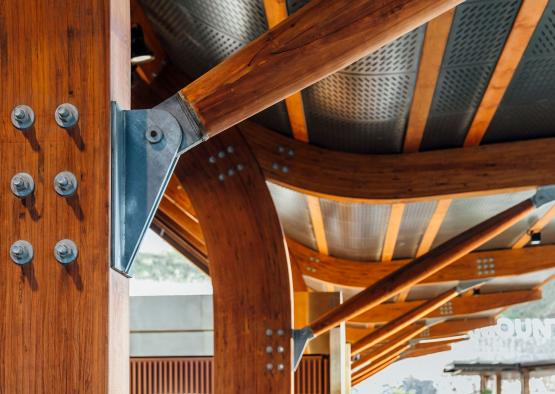 Image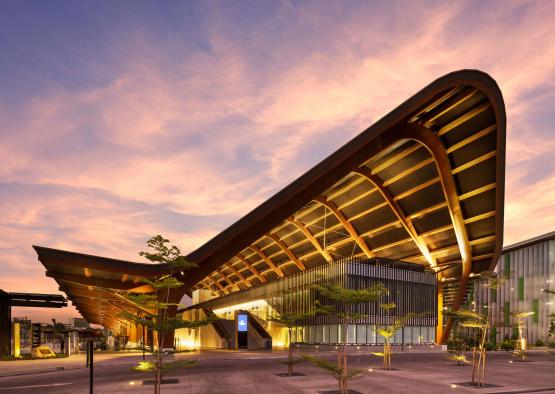 Image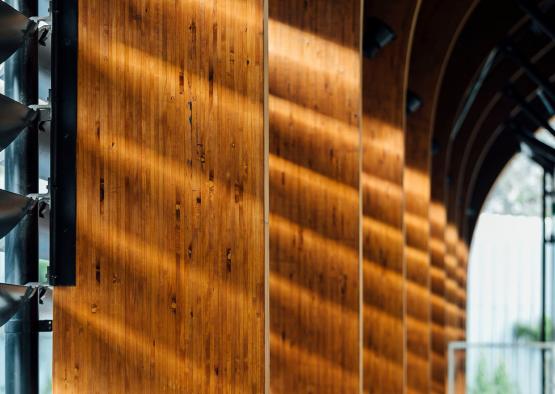 Image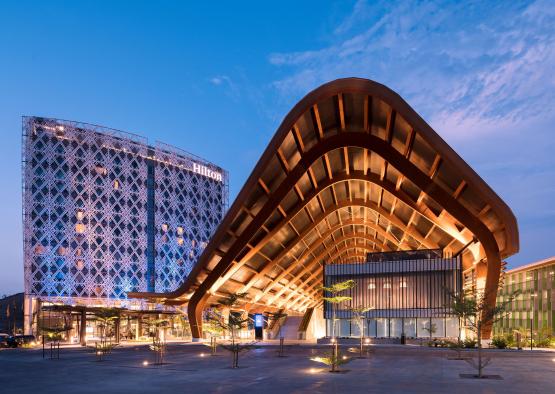 Image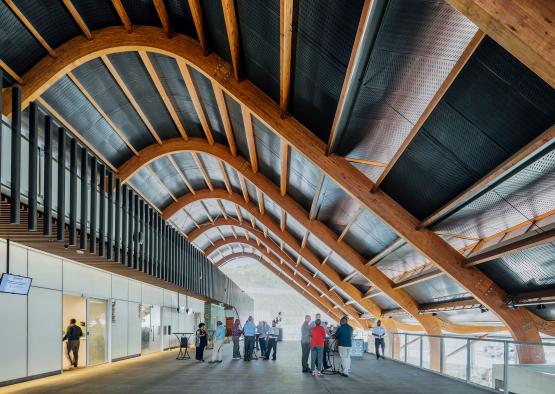 Image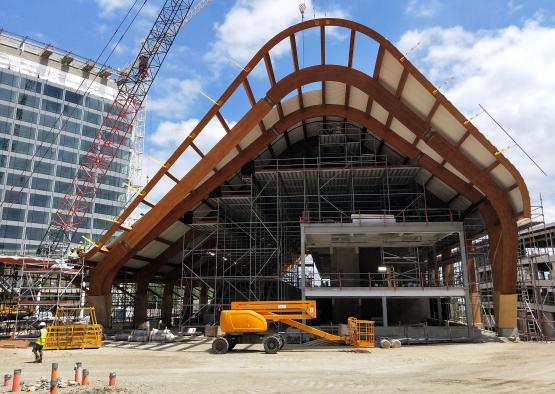 Image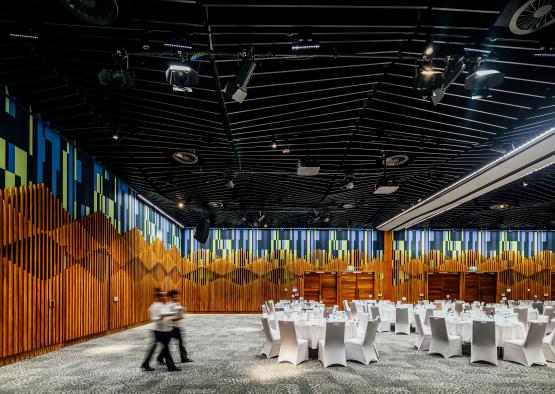 Image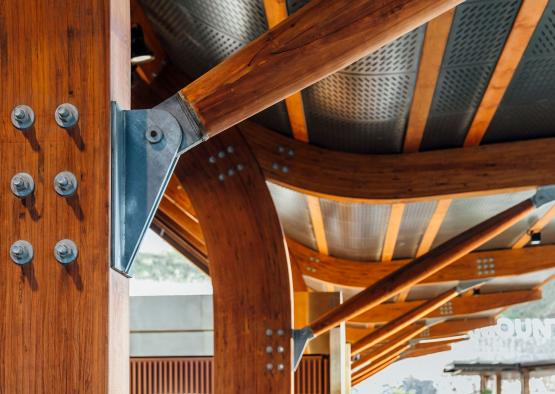 Overview
The convention centre needed to meet the exacting standards of hotel operators, Hilton, whilst also providing an iconic building for the city to host the 2018 APEC conference. 
Structure
In order to achieve the huge spans and curved and twisted geometry of the canopy roof, glulam engineered timber was chosen as the primary structural material. Built in only 4 weeks, the roof structure comprises mostly prefabricated elements. 
Large curved glulam members are connected by horizontal purlins that hold up the continuous sweeping roof. The glue laminated timber is made up of stacked layers of thin wood plys glued together, making it a highly workable choice for curved members. Spanning 30 metres wide, 100 metres long and rising over 16 metres above the ground, the Kutubu roof is certainly an impressive timber structure.
Steel bracing members run along one of the roof bays, providing lateral support for the large roof. The glulam members are joined by large steel plates bolted into a groove in the glulam. The joined members are then connected via pin joints to the vertical wall members, in order to allow for subtle movements of the structure throughout the variable weather conditions. The pinned struts have been worked into a 'cigar' shaped member.
Exterior
From the exterior, the Kutubu structure is recognised by the large roof structure, which shelters the outdoor function areas beneath from sun and rain. The convention centre is an autonomous structure within the overarching canopy. 
The canopy system allows the structure to be viewed in its entirety from the exterior, as viewers peer through the external areas right through to the other side of the centre. The exposed structure provides an exciting tectonic aesthetic to the overall building feel. 
Interior
The moody interior atmosphere within the banquet hall features locally harvested and crafted New Guinean rosewood. Rosewood has long been highly prized for by furniture makers and artisans for its decorative burrs, workability, and termite resistance.
The interior vertical batten arrangement, in combination with the forest colours of acoustic panelling behind, is both a reference to the densely treed hinterlands that cover the country and a visual relief from the external glare of tropical climate conditions.