The Liina transitional shelter is a temporary building to be used in cold climates during crisis situations anywhere around the world.
Project Name
Liina Transitional Shelter
Photographer Details
Aalto University
Image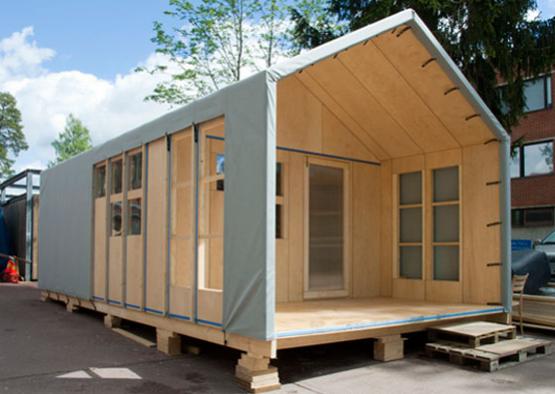 Overview
The Liina transitional shelter is a temporary building to be used in cold climates during crisis situations anywhere around the world. Designed and built entirely by an international team of students from the Wood Program of Aalto University, Liina is made of mostly Finnish wood and wood-based materials.
As Liina is designed to be deployed quickly and efficiently, it utilizes a simple flatpack system of prefabricated timber panels. The panels are simple enough to be fabricated almost anywhere in the world, and all components for two complete Liina shelters fit within a standard International shipping container.
As a transitional shelter it is intended to be a secondary response after a crisis. The shelter can be assembled by two adults in six hours with only common non-electric tools and a cartoon diagram. It is designed to house a family of five for up to five years during the post-disaster reconstruction phase and then can be upgraded, relocated, resold or recycled.
Structure
The Liina concept is based on a series of prefabricated sandwich panels that can be easily transported and assembled, and can be flat packed into a small space. Each panel is 600 mm wide (half the dimension of a piece of plywood) to cut down on waste and to be easily carried by one adult.
 The Panels are comprised of an LVL (laminated veneer lumber) frame sandwiched between two sheets of plywood and filled with wood-fiber cellulose insulation pads.  It takes just over 100 panels to assemble the structure with some additional panels required to construct the furniture.
 Six panels are joined together with simple, repeated wooden-dowelled joints to form a frame and tightened using nylon straps ('liina' in Finnish), like those used for the transportation of cargo. The strap creates air-tight joints without any metal fasteners or the use of electric-powered tools on-site. The frames are then tilted up and stacked one-by-one with others and tied together with 3 straps.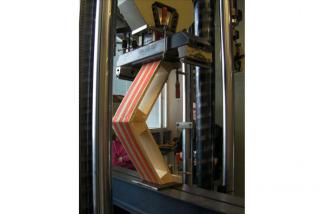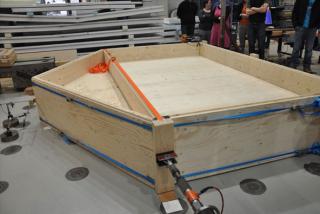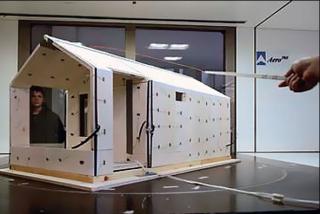 Exterior
The exterior and interior surfaces of the panels are identical in nature and make use of a combi-ply Birch solution for the prototype.  The plywood is coated with a natural oil based waterproofing agent that provides moisture resistance whilst still allowing the building to breathe and regulate humidity etc.
A foldable waterproof canvas protects the shelter from rain, snow and UV damage and can be easily replaced if needed.  The canvas is pulled taught over a series of battens affixed to the exterior of the panels, thus creating a ventilation gap between the two skins.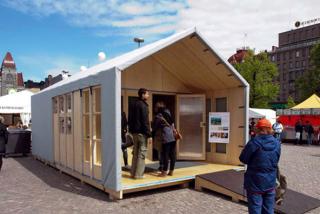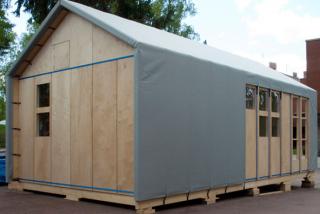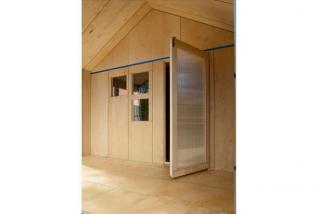 Interior
The interior area is 18 sqm, designed to comply with the accepted standard of 3.5 sqm per inhabitant in refugee housing. The interior contains two semi-private sleeping spaces, a galley kitchen and multi-purposed eating/living/workspace.
A loft over the sleeping areas can be used as additional sleeping area and storage. There is an additional seven square meters of covered exterior space meant to serve multiple functions for the inhabitants during their occupancy period.
The modularity of the design allows for the addition or subtraction of frames in order to increase or decrease the size of the shelter to accommodate the needs of the inhabitants.