This lodge utilises a mixture of concrete and wood throughout for a warming interior.
Project Name
Mountain Landing Lodge - concrete and wood in a forbidding landscape
Photographer Details
Patrick Reynolds
Image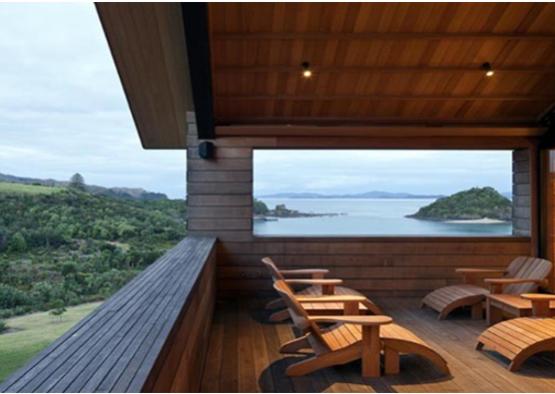 Overview
This building is a lodge for a family resident offshore and is located on a beautiful piece of coastline in Northland having high heritage and landscape values. The building, from the outside, aimed to start to relax into the land over time and take on some of the colouring of the surrounding trees and landscape. Inside, Cheshire Architects were keen to develop a powerful sense of enclosure that would bring together the extended family holidaying there while allowing the spaces to become part of the unique mix of farm and seascape.
Structure
Throughout the building the robust, massive and mute concrete is contrasted with softer more responsive timber. Within this schema heavy concrete construction forms a buttress against the hill slope and timber is used to offer a softer and warmer surface to both hand and eye. Thus where one touches the building, at handrails, walls and balustrades one rubs against oiled timber and where we want to increase the sense of warmth we use the enclosure and companionship of timber lining.
Spotted gum is used as a primary rainscreen, the open boarding coupled with relatively simple gabled forms suggesting an informal rural character, its weathering allowing the lodge to recede gently into the valley background. Within the building spotted gum is dark for the structural roof trusses and oiled for the internal lining; the two finishes making a play between robust structure and more refined enclosure. By day the living spaces are peaceful refuges within the rigorous coastal environment and at night the illuminated timber roof planes create a warm glowing beacon-like canopy within the valley.
Extremely wide American oak flooring is laid throughout the upper storey as a ground plane on which area-mats define sitting spaces; the large format of the planking helping to reduce the apparent size of the spaces. The upper living floors are supported by a more massive lower floor built into the north facing slope and housing bedroom suites and back of house facilities. The exposed inter-floor structure uses precast concrete ribs with Victorian ash infill planks and with natural and artificial lighting levels held low to exaggerate the recessive cave like calm of the spaces.