Netball Central provides first-class facilities in an environmentally conscious structure.
Project Name
Netball Central, Sydney Olympic Park
Photographer Details
Geoff Ambler; Ethan Rohloff
Image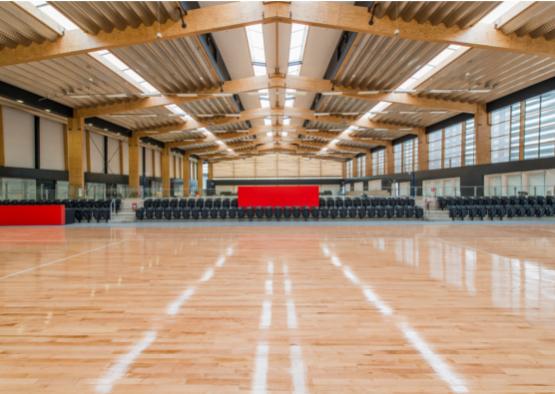 Image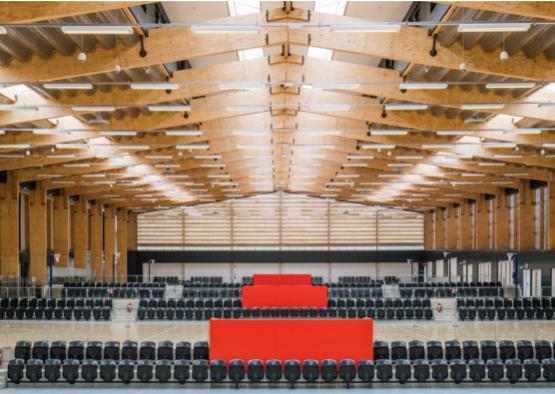 Image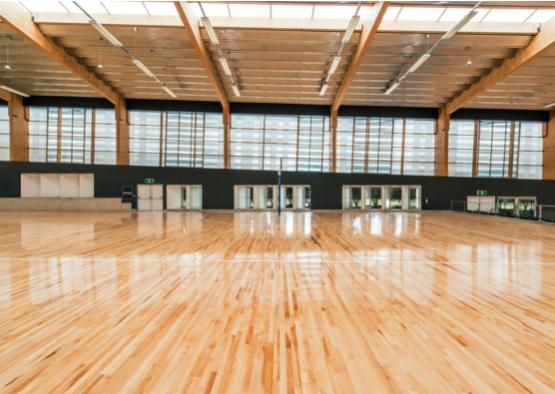 Image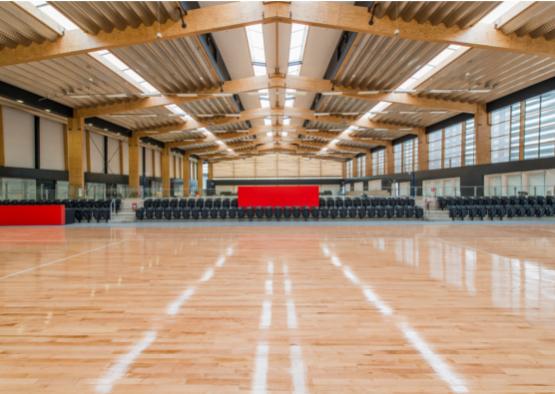 Image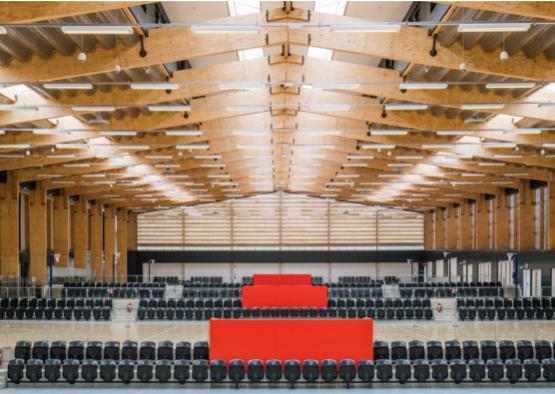 Image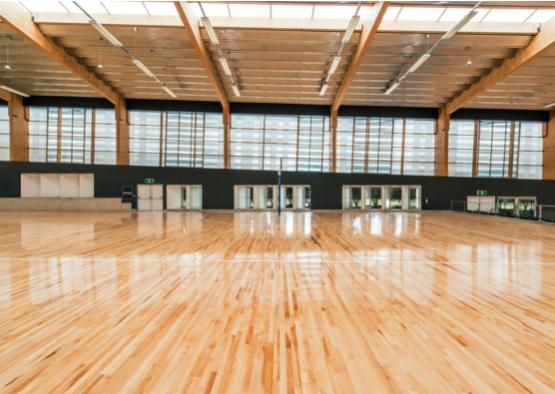 Overview
Netball Central is the first sports facility to be built at Olympic Park since the Sydney 2000 Olympic Games. Located on Olympic Boulevard, Netball Central is built on land in front of the 1980s State Sports Centre, linking and combining with this older facility.
Netball NSW's brief for this project was to create a facility that promotes, supports, and advances Netball NSW through its players and community. The Ecologically Sustainable Development (ESD) plans implemented for the Sydney 2000 Olympics by the Sydney Olympic Park Authority had parallels with this brief. These plans commit to the conservation, management and development of the precinct.
Netball Central is a milestone project for women's sport in Australia. To celebrate and enhance this significant achievement, we wanted to create a unique building. Innovative materials and structural design combine with a strong, streamlined design and sustainable principles to achieve architecture with a unique character of its own.
Structure
Netball Central is a giant wooden 'shed', a gable-roofed portal frame of laminated veneer lumber (LVL). Working in collaboration with Arup, we developed a design with LVL as the primary structure. The selection of LVL informed the heart of the architectural language; setting it apart from existing steel structures and infusing the space with a textured warmth.
The structure falls along its length with five netball courts stepping, as discreet studios, down the site along the Olympic Boulevard gradient. The building drains counter-intuitively: along its length instead of towards its edges. Deep profile structural roof sheeting was rolled on-site and lifted pan-by-pan in single 140m lengths onto the 38m span frames.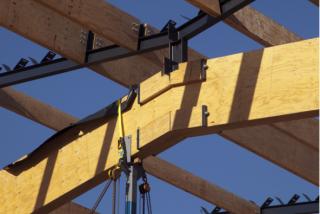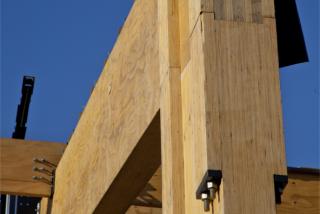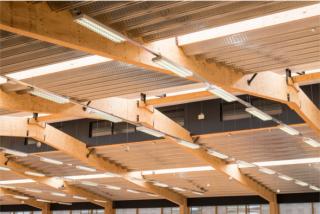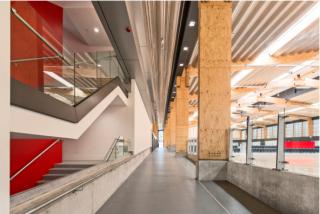 Exterior
Hidden behind an avenue of hoop pines running along Olympic Boulevard, Netball Central is monumental in scale yet incidental in its presence. The lightweight metal and translucent polycarbonate facades enable a play of light and shade from the pines.
A stretched 'lantern' at night, the building's edges open with ventilation 'gills' to allow views directly into the competition arena. The combination of operable structures (such as timber louvers), angled blade walls and light-diffusing materials help to prevent direct sunlight and glare interfering with play, while enabling 100% natural ventilation to all six courts.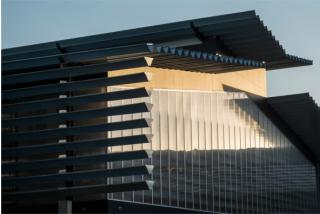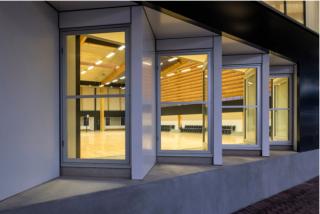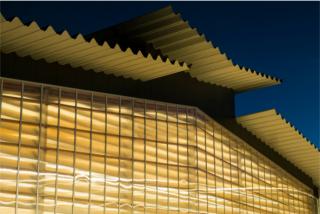 Interior
Architects Scott Carver were keen from the outset of the design process to create a building with a unique interior aesthetic. The large LVL portals were specified to create a grand internal scale akin to a Grecian temple. The repeating form of the structural portals were designed to create a 'rhyme' down the length of the court halls juxtaposed with the three-quarter rhyme of the façade's supporting structure.
The industrial aesthetic of the LVL is complemented with the polished warmth of the sprawling timber sprung flooring. These timber elements, together with the raw materiality of concrete and translucent polycarbonate and the neutral colour palette of metal and plasterboard linings, form a backdrop for selective red elements forming jewel-like focal points.
The complex has five international standard courts, an additional 'show' court accommodating more than 800 spectators, an education and training room, amenities for players, officials and spectators, and administration headquarters and training facilities for Netball NSW and their professional team, the NSW Swifts.