This unique village library building with its firewood stick facade was awarded the inaugural A$100,000 Moriyama Royal Institute of Canada prize in 2014 for transformative and emblematic architecture.
Project Name
Liyuan Library
Photographer Details
Li Xiaodong
Image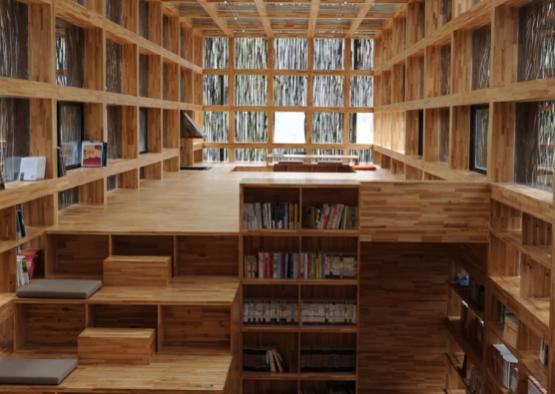 Overview
The international award-winning Liyuan library with its facade of fruit tree branches is described by its architect Li Xiaodong as "[a] project about the relationship of a building to its surroundings and its role in serving the community, rather than a building as a discrete object."
He refers to it as a "modest" addition to the small village of Jiaojiehe – about two hours drive from busy Beijing urban life.
The building, which won the inaugural Moriyama Royal Institute of Canada (RAIC) international prize of A$100,000 in 2014, forms a modern programmatic complement to the village by adding a small library and reading space within a setting of quiet contemplation and enhanced appreciation of the natural landscape.
Instead of creating a new building inside the village centre, Li chose a site in the mountains five minutes walk away – a setting of clear thoughts when visitors consciously take the trouble to head for the reading room.
"Because of the overwhelming beauty of the surrounding nature, our intervention is modest in its outward expression," he told timber+DESIGN. "We can't compete with nature's splendour."
Li's hope that a well-designed building would improve life in the village and attract tourists has been exceeded beyond his wildest dreams.
Story and pictures by special arrangement with timber+DESIGN International magazine.
Structure
The Liyuan library is an extension of architect Li's adoption of "reflexive regionalism," in his work. "It's more about identifying original conditions than inventing original forms. It's about combining technology, community, local materials, modern thinking and a traditional sense of identity."
Barry Johns, chancellor of the RAIC College of fellows and chair of the Moriyama jury, says: "We need more of these types of perhaps modest yet powerful buildings, which [create] architecture from a deep understanding of people, culture, context, sight, materiality and light."
The building blends into the landscape and recognises regional characteristics through the delicate choice of materials and the careful placement of the building volume.
Steel and glass are important to the mix of materials, but it is the locally sourced 'sticks' and boldly presented engineered pine inside where the real design statements are made.
Exterior
The building blends into the landscape and recognises regional characteristics through the delicate choice of materials and the careful placement of the building volume.
The architect found large amounts of locally sourced wooden sticks piled around all of the village houses to fuel their cooking stoves. "We decided to use this ordinary material in an extraordinary way – cladding the building in familiar textures in a way that is strikingly sensitive," says Li.
The sticks – including branches pruned from fruit trees – conceal a steel and glass box in the style of a Philip Johnson open plan design from the 1950s.
"We chose the local branch material because it can be recycled from nature itself. It is not treated with any protection and I am expecting that the facade will become home for the local birds – thus increasing the building's participation in nature.
"Chinese architecture is always drawn from a bird's-eye view, never from the human eye," Li says. "We always think of architecture as one piece. We don't see the human as detached from the environment."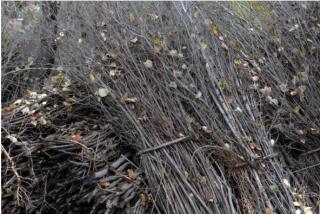 Interior
Inside there is strong, expressive character and special diversity, using steps and small level changes to create distinct places. Views toward surrounding landscapes are 'framed' and act as an embracing shelter.
The building is glazed to allow for a full daylight space. The wooden sticks temper the bright light and spread it evenly to provide a perfect reading ambience.
A cubic grid of structural timber (engineered pine) encloses the 175m2 library area, providing a uniform framework for stairs, windows and stepped seating.
In keeping with the building's clever architecture, the library itself operates to a simple but very effective model: entry is free but visitors are encouraged to bring two books to the library, and take just one back home from the collection – thus sustaining a vibrant hub of knowledge exchange.