Despite public perceptions to the contrary, timber buildings can be designed to be very safe in fires and other emergencies. Designing for fire safety must enable people to escape in the early stages of a fire, and provide fire resistance to prevent a fire spreading and the building collapsing.
For best results, this guide should be read in conjunction with AS 1720.4 and WoodSolutions guide 17, Alternative Solution Fire Compliance.
Other WoodSolutions Fire-related Design Resources
Fire ratings can be achieved with timber in a number of ways. The three most common are:
Protecting timber by covering it with a good insulator such as fire-rated plasterboard - this means that the timber takes longer to get to ignition temperature and can remain functional for a longer period while the fire is burning

Using oversized timber - this will allow for loss of material charring throughout the burn period, and there will still be enough timber remaining in the cross-section to give it the required strength

Treating timber with fire-retardant chemicals - this delays the initiation of combustion, and can prevent the spread of flame
Information about these sytems can be found on the Design for Fire page.
Other EXPAN design guides can be downloaded here.
Hard copies of most WoodSolutions design guides are available for purchase from SAI Global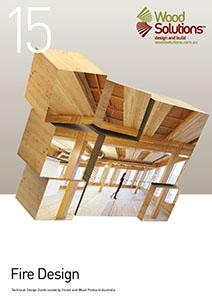 Fire Design
This Guide provides a summary of fire safety design process for a number of EXPAN-developed systems, including timber concrete composite (TCC) floors, timber cassette floors and post-tensioned timber beams without any fire-rated lining or additional protection. Design for structural stability in fire conditions is covered, as well as worked examples of the fire safety design procedures for each system.