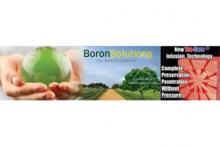 Manufacturer / Supplier / Timber Treatment & Termite Specialist
Address
Unit 1/65 Christensen Rd
Stapylton
Queensland
4207
Business Type
Manufacturer
Retail
Services
Wholesale/Trade sales
Service Categories
Advice & consultancy
Coatings & treatments
Timber building products
The Boron Solution's Tru-Core Timber Treatment System – Comprehensive Life-Time Warranty with CodeMark Certification recognised as the ONLY Termite Barrier Protection System that also imparts Fire Retardancy and Fungal Control.
Boron Solutions provides their Tru-Core Technology as a mobile timber treatment service to timber in built structures. At site, we heat up the borate-based multi-component biocidal treatment solution and apply it to frames, trusses and other raw timbers as a full-infusion treatment providing life-time protection against all timber pests, fire retardancy (BAL 29) and fungal protection to stop rot and decay.
No other product or system is able to impart this level of protection to a built structure.
The treatment system is applied when construction reaches 'lock-up' stage. The full-infusion multi-component biocide system is applied with heat to all structural timbers to provide the ultimate level of protection against all timber pests and a range of other benefits.
The Comprehensive Fully Transferrable Life-Time (Fifty Year) Warranty is provided on all treated items and provides the ONLY available recognised 'Termite Barrier System'.
All other Termite Systems are unable to warrant against Termite Bridging which is NOT considered by suppliers to constitute product failure!
This treatment system is the ONLY Termite Management System able to provide a complete level of Termite Protection without a requirement for ongoing inspections. No other system can provide the unique properties imparted by the Boron Solution's Tru-Core Timber Treatment System.
See : https://www.youtube.com/watch?v=x09OT7Ku2Lk&feature=youtube qdata for a short video on the Tru-Core application.
Timber Treatment – Termite Protection - Fire Retardancy – Fungal Protection 
Boron Solutions also provide the Mabon's range of speciality boutique timber treatment products – See www.mabons.com.au

AllKill Pest Control is another sector of the Boron Solutions organisation.

Boron Solutions are the industry experts dealing with timber treatments and termite management.

The staff at Boron Solutions have knowledge pertaining to National Construction Codes, Australian Standards and Certification Requirements to provide answers and recommendations for all your enquiries.

Contact us on FreeCall 1800 815 477